By Tamica Garnett
Following the presentation of their five-year strategic plan, the Guyana Amateur Swimming Association (GASA) conducted its awards ceremony for last year's outstanding athletes.
The ceremony, which took place last Friday, was held in the aesthetic atmosphere of the Herdmanston Lodge, which kindly contributed the use of the area to the association free of charge.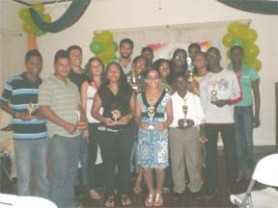 The awards were distributed to swimmers from the four existing swimming clubs and categories for the awards ranged from eight years and under to 18 years and over.
Secretary of GASA, Dr. Karen Pilgrim, stated that the awardees were to be commended for their contributions to the sport.
She added that they were deserving of their awards since to receive an award each swimmer had to take part in a minimum of four meets and had to participate in at least five events for each meet.
In the eight years and under boys' category, first place went to Daniel Scott while seven-year-old Nkosi Beaton, the youngest of the awardees, was second.
Honourable mention went to Sarah King and Alyssa Nurse in the girls' division and Jarrell Troyer among the  boys.
In the 9 – 10 year-old category, the only qualifier was Accalia Khan who was first in the female class.   Onika George received honourable mention.
Britany van Lange and Soroya Simmons copped first and second places respectively in the female 11 – 12 years-old category. Among the boys, Travis Henry was the only qualifier while honourable mention went to Aureyah Payne.
The 13 – 14 years category received the largest number of awardees for the night with three girls and two boys qualifying for awards.
Goodwill Games silver medallist, Athena Gaskin, led the group with Anna Layne and Athena Foo trailing in second and third place respectively. Among the boys, Sheik Amir carted away first place while Joseph Seguina was second. Honourable mention was given to Steffi de Nobrega.
In the 15 – 17 years category, Niall Roberts took first place with Henk Lowe second and Jaime Jabar, third.
Noelle Smith was the only female winner in that category. Alejandra Vieira for girls, and Fabian Binns for boys' were the sole persons to qualify in the 18 years and over category. Honourable mention was given to Kristyl Robinson and Jamal Sobers.
Around the Web