National Chess Champion Wendell Meusa took the lead in the Keishars/Fide Qualifiers after play continued Friday and Saturday at the KeiShar's Sports Club.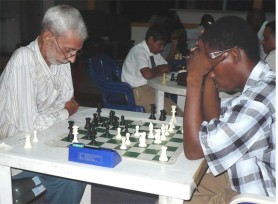 In Friday's action Meusa came up against earlier tournament leader Michael Pereira, artfully stripping Pereira of the lead.
He continued his supremacy on Saturday by calmly defeating Ronuel Greenidge sending him spiralling into third place.
Meanwhile, Errol Tiwari played and prevailed in a brilliant game against Loris Nathoo while Taffin Khan got past Frankie Farley.
In other key results, Learie Webster defeated Alex Joseph and David Khan got the better of Haatram Parbat.
The subsequent clash between Tiwari and Pereira ended as the longest game thus far clocking three hours and 45 minutes.
And, in a thrilling encounter Shiv Nandalall defeated Ryan Singh, while David Khan got past Dennis Dillon.
The points standing at the conclusion of the four rounds are: Meusa, four points; Taffin Khan, three and a half points; Greenidge, Tiwari, Nandalall and David Khan,  three points each; Nathoo, two and a half points; Pereira, Singh, Dillon, Ron Motilall, Farley and Webster, two points each; Sham Khan and Raan Motilall, one and a half points and Saeed Ali, Joseph and Craig Sylvester on one point each.
The tournament continues tomorrow from 5.45pm with round five with the sixth round set for Saturday from 4.45pm.
The tournament is sponsored exclusively by Keishars Gift Shoppe.
Around the Web