Guyana's national female football team the `Lady Jags'  Will take on Barbados this afternoon in the second round of the International Football Federation (FIFA) Women's World Cup qualifiers in Trinidad and Tobago.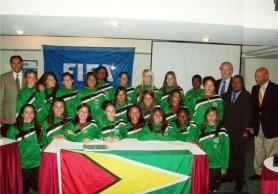 The Lady Jags travelled to Trinidad and Tobago (T&T) on Saturday after participating in a one-week training programme in Toronto, Canada.
The aim of the camp was to get the players to peak fitness ahead of the group matches.
They are scheduled to play St. Lucia tomorrow  and hosts Trinidad and Tobago on Friday.
According to Technical Director, Mark Rodrigues, the theme for the camp was "Competitive" and it incorporated a points system throughout the training to monitor the athletes' competitiveness against each other.
Points were posted every morning at the training facility for the players to review and assess themselves.
Rodrigues said the strategy worked well as the level of competitiveness among the athletes was notably higher on the field when they competed in their daily games.
Playing one of the top boy's teams in Ontario on Wednesday night allowed the coaching staff to focus specifically on areas of play that required addressing.
This was done during training on Thursday, and successfully taken into their friendly game that evening, against one of the top Provincial female teams in Ontario where Team Guyana enjoyed the majority of the play.
Rodrigues said both players and coaching staff were looking forward to a higher level of competition to come in the second stage of the qualifiers, especially as they will be playing the favourites Trinidad and two other group winners.
The Guyana Women's Football Committee (GWFC) also hosted a Business Presentation on Friday evening at the Delta Toronto East. The presentation was open to the Guyanese business community in Toronto and about 75 persons attended. Speakers included Guyana's Consul General to Toronto, Danny Doobay, FIFA's Technical Advisor and Canadian Hall-of-Famer Dick Howard, Guyana Football Federation President Colin Klass and Rodrigues.
Colin Baker, Programme Director of the Lady Jags made a Power Point business presentation on behalf of the GWFC which was well-received.
Several individuals pledged support to the Lady Jags Programme.
Meanwhile, the GWFC extends sincere gratitude to the Pickering Soccer Club and Norman Sue's Bakery in Scarborough for making the Lady Jags camp and business presentation a success.
Around the Web