Phillip Squires and Godfrey Lowden defeated Leyland Leacock and Gilbert Barckoy 2-6, 6-1, 7-5 to win the Men's doubles final of the Trophy Stall-sponsored doubles tournament Sunday at the Le Meridien, Pegasus Hotel courts.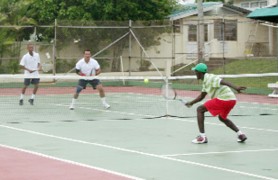 Despite being the top seeds, the pair of Squires/ Lowden was forced to overcome a spirited challenge from Leacock/Barckoy in the match which lasted over two hours.
The top seeds played a lacklustre first set which saw Leacock and Barckoy seizing the initiative with a 6-2 win.
But hopes of an upset quickly faded as Squires and Lowden changed tactics and reeled off the second set 6-1.
The final set was an entertaining affair as both pairs raised their level of play.
Squires and Leacock even engaged in a bit of gamesmanship in an effort to seize the advantage.
Tied at 4-4, Squires produced a flawless service game to hold at love and the match was essentially decided when Leacock and Barckoy committed costly unenforced errors which saw them losing the set 5-7 and the match.
Squires and Lowden's path to the final included wins over the junior team pairing of Jeremy Miller and Jason Andrews.
They also defeated the Glasgow brothers whilst Leacock and Barckoy prevailed over talented juniors Daniel Lopes and Gavin Lewis and the father and son combination of Rawle and Ezra Sue Ho.
In other results, Sanjeev Datadin and Don Singh won the Over-35 doubles; Omar Persaud and Lowden captured the men's Over 45 category and Maxie Fox and Steve Surujbally, the Men's Over 55 doubles.
In the junior categories, Lopes and Gavin Lewis prevailed 6-7, 6-1, 6-2 over the Longe brothers Seanden and Saevion, whilst Aruna Ramrattan and Shawna Gentle secured a hard-fought victory over Nicola Ramdyan and Krystal Sukra in the girls' doubles, winning 7-5, 6-7, 7-5. On Saturday, Ezra Sue-Ho and Shawna Gentle  upset the number one seeded team of Squires and Aruna Ramrattan in straight sets in the final of the mixed doubles event.
The tournament was the most recent of several activities organised by the GLTA with the aim of attracting more players to the sport and to raise the overall standard of the game locally. But it was severely affected by rain which caused several delays to the staging of the finals.
Winners in the tournament will be presented with their prizes at a still to be determined date.
Around the Web