By Tamika Garnett
Dian Gladstone, mother of Youth Olympic Games Scholarship awardee, Jevina Sampson, after returning from the assessment interview at the Singapore Sports School from June 14–18, has affirmed that her daughter will be accepting the scholarship once the offer is confirmed.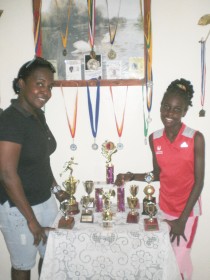 "Yea she's going to go, she's definitely going!" Gladstone exclaimed.
"When I got there and we stayed at the school and I saw everything that the school had to offer I liked what I saw. You can say my mind changed overnight. I got it in my mind after seeing the place, we got a tour of the school, they gave us a tour of the entire city and it was more or less like a paradise."
Sampson was among nine promising young sport achievers, from various countries, who  had been short-listed to attend a selection programme.
After the assessment the list would be pared  down to a final six awardees.
Sampson had earlier this year been chosen by the Athletics Association of Guyana (AAG) after Guyana received an invitation to send an eligible awardee for the scholarship.
The scholarship is a legacy of the inaugural YOG which will be held in Singapore from August 14– 26.
Gladstone and Sampson attended an assessment interview at the school where Sampson along with the other selected athletes underwent academic and athletics assessments to determine who will be granted the scholarship to attend the school.
Earlier last month in an interview with Stabroek Sport, Gladstone had related her reluctance to send her daughter but she expressed willingness to attend the assessment interview before coming to a final decision. Speaking with Stabroek Sport in a telephone interview yesterday, Gladstone stated  that all doubts have been utterly erased.
With her voice throbbing with excitement, Gladstone said her visit to the Singapore Sports School convinced  her that she would be depriving  her daughter of something extremely rewarding if she did not let her accept the scholarship.
Moreover, Gladstone said that qualms about  having to part with her child were put to rest when she was informed that the opportunity existed for her to reside in Singapore, alongside her daughter.
"I spoke to them about my concerns of her being so far away by herself and they were very considerate.  I mean it's too far away for her to stay alone, but they said they were actually considering having someone stay with each child," Gladstone stated.
"Most of the children who attend the school they live close by so they can go home on the weekends, and the overseas children would have no one so they were already considering having a parent to stay with each of the six children."
Gladstone stated that following discussions with some of the officials, including the school's manager, the principal and a representative from the Singaporean Ministry of Education, it was conveyed to her that they would be willing to assist her in finding a job, and may provide accommodation for her on campus.
"They may help me to find me a job over there, and they're going to accommodate me right at the school.  I would stay in the teachers' quarters on campus," Gladstone stated.
Gladstone's joy could only be surpassed by that of Sampson, who stated that she was very excited about grasping this new experience. Sampson, however, admitted that she would still be sad about parting with the other half of her family and all of her friends.
The 11-year-old would be leaving behind her older brother and her father, besides several friends.
"Yea I'm really excited that I'm going, I feel good because it is a good opportunity.
And I'm happy that my mom will be coming along with me yea, but leaving is a whole different thing I'll be sad about that," Sampson confessed.
Turning to the assessment Sampson said  that though she was very nervous she has no doubts that she gave her best and did well. "Well I was nervous, I was really nervous. The test wasn't difficult, and I think I did excellent," Sampson said.   According to their website the Singapore Sports School is a specialized independent school that provides a conducive academic and training environment for teenagers aspiring to be sports athletes. The school enables students to balance their academic pursuits alongside intensive sports training with a modular curriculum of study in specialized classrooms. They reside five days a week on a sprawling seven-hectare campus that is  equipped with world-class sporting facilities.
The scholarship recipients will be in receipt of a fully-subsidized academic and sports education at the school for a period lasting four to six years. However, if Sampson is among the unfortunate ones  to be bypassed, he mother observed that she would still be happy about how close her daughter had been to getting selected,  but she is still optimistic that the outcome will be in their favour.
"If she didn't get it I would be still be happy because knowing she reached so far at such a tender age, and it's good that she still young because  all the doors are still open to her… but they liked her a lot so I'm sure she's going to get it," Gladstone said.  The fate of the lucky six athletes is expected to be determined by the committee later this month. The six accepting athletes are then expected to attend an award ceremony during the Games in August.
Around the Web