By Floyd Christie
The national men's rugby squad is "well on course right now," according to their coach Theodore Henry.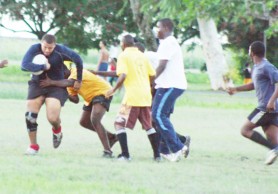 The team is aiming to win the first ever gold medal for rugby at the Central American and Caribbean (CAC) Games and to defend their North American and Caribbean Rugby Association Championships.
Rugby will make its debut in the CAC Games on July 24 at the National Stadium, Providence.
The national squad,  four times defending Caribbean Champions, is committed to their intense training regimen which continued yesterday afternoon at the National Park.
Speaking to Stabroek Sport yesterday via telephone, prior to their practice session, Henry explained that the team is currently into the technical stage of their training and "brushing up on the dos and don'ts of a tournament."
"At practice this afternoon [yesterday afternoon] we will be focusing on game sequence and contact drills, just to get them in that sort of frame of mind," Henry said.
The squad has been paying more focus to the tactical aspects of their preparation since the second to last visit of the team's Technical Director Joe Whipple a few months ago.
When asked if the squad is picking up where Whipple left off, Henry said,  "Whipple came and kick started game play situations, but now we heading into a more tactical stage… we're going to develop what I'm introducing but he's going to further develop on that when he comes for the camp."
The squad will be encamped from July 18-21 at the Splashmins Resort to select the final 12-man team  that will participate in the upcoming CAC Games and undergo further training.
Meanwhile the squad will participate in their final trials on Sunday.
Henry recently returned from what he described as "the best coaching course" he has ever attended in Barbados last June. He is now  geared with drills and tactics from the programme to impart to the local team, in addition to the vast technical coaching experience he has acquired over the years from other coaching programmes and as a player.
He explained that the coaching programme had  highlighted aspects pertaining to the preparation of a team for tournaments, team selection, recovering and development after games and tournaments and it was more game oriented than other coaching programmes he has attended.
The national team has never lost a game at the NACRA Championships and they will now be bolstered by Henry's experience and new-found technical expertise when they defend their Caribbean Championship for the fifth year in succession and strive to secure the gold medal at the CAC Rugby Games.
Around the Web