By Tamica Garnett
President of the Athletics Association of Guyana, Colin Boyce, says should the weather prove favorable the association will stage a developmental meet later this month.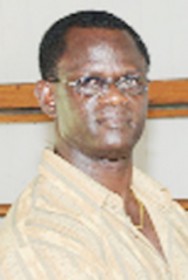 Apart from the weather though, Boyce told Stabroek Sport that there are other factors which could affect the staging of the event.
He explained that Police Sports Club ground, the expected venue of the meet, is currently affected by the weather.
Additionally, the club is undergoing repairs which could further affect the possibility of the event being held, said Boyce.
Though the AAG has staged multiple athletics events so far this year, there is no local event officially scheduled to take place this month.
The only event currently scheduled is the Central America and the Caribbean Games to be held in Mayaguez, Puerto Rico from July 22 – 28.
Six athletes have already been identified to take part in those games.
The next athletic event, the Police Progressive Youth Club, Christopher Hall Track Meet, is scheduled for August 15 and Boyce said the association was hopeful of staging the developmental meet before then.
The AAG has already held two developmental meets so far this year.
Boyce also revealed that following discussions with former national athlete Gavin Henry, the AAG is considering the possibility of staging of a meet in Berbice.
He stressed, however, that he could give no further information on this as it was still in the theoretical stage at the moment.
For now, Boyce stated, the AAG would be focusing on the other upcoming meets that they have scheduled on their calendar.
Boyce, who has been president of the AAG for just over a year now, has received several commendations for the rapid increase in meets held by the association in his short time in office.
Around the Web