Top seed Victoria Arjoon and Mary Fung-a-Fat kept Guyana in the hunt for individual titles on day two of the Caribbean Junior Squash Championships in the Cayman Islands by reaching the finals of their respective divisions.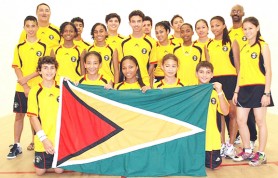 In the girls' U-15 category Arjoon defeated Bermuda's Emma Keane 11/2, 11/7, 11/7 in the semi-finals while Fung-A-Fat disposed of Eilidh Bridgeman of the Cayman Islands 11/2, 11/3, 11/5 in the girls' U-17 semi-finals.
Ashley De Groot came within a whisker of making it an all–Guyanese final when she bowed out to Kristina Myren of the Cayman Islands 12/10, 7/11, 9/11, 11/7, 5/11.
Also losing at the semi-final stage was Taylor Fernandes  who was defeated by Jamaica's Alyssa Mullings 3/11, 7/11, 7/11 in the girls'U-13 category and Ben Meckdeci who was defeated by Julian Jervis of the Cayman Islands 11/2, 11/9, 11/4 in the U-13 category.
The finals of the individual championships will take place today.
Earlier, on Saturday's opening day, the number two seed in the girls' U-13 category Larissa Wiltshire went down to the greatly improved Trinidadian Faith Gillezeau in the quarterfinal.
Guyana's honour was restored when Ben Mekdeci took out the number two seed Danny Chesham of Barbados to reach the semi-finals.
Guyana will be hoping to increase their tally of two individual titles which they won last year through Arjoon and Keisha Jeffrey as well as retain all three of their team titles.
Saturday's results:

Girls Under 13
1st Round – (2) Larissa Wiltshire defeated Amanda Haywood (BAR) 11-4, 11-6,11-9
Quarter Finals – (3/4) Taylor Fernandes defeated Jamie Lee Edgehill (T&T) 11-7,11-7,11-8
Quarter Finals – (2) Larissa Wiltshire lost to (5/8) Faith Gillezeau (T&T) 2-11,11-9,10-12,2-11
Boys Under 13
1st Round –  Patrick Fraser defeated (5/8) Khamal Cumberbatch (BAR) 11-3,11-1,11-3
1st Round –  (5/8) Ben Mekdeci defeated Dylan Pratt (BER) 11-3,11-4,11-5
Quarter Finals – Patrick Fraser lost to Iain McCullum (CAY)  4-11,6-11,1-11
Quarter Finals – (5/8) Ben Mekdeci defeated Danny Chesham (BAR) 11-4,11-7,11-3
Girls Under 15
1st Round –  (5/8) Akeila Wiltshire defeated Erin Anderson (OECS) 11-2,11-5,11-0
1st Round –  (1) Victoria Arjoon defeated Dana Saulter (JAM) 11-3,11-4,11-2
Quarter Finals – (5/8) Akeila Wiltshire lost to (2) Charlotte Knaggs (T&T) 1-11,6-11,9-11
Quarter Finals – (1) Victoria Arjoon defeated Angelique Jackson (T&T) 11-4,11-1,11-5
Boys Under 15
Round of 16 –  (5/8) Nyron Joseph defeated (9/16) Nico Tummings (CAY) 11-2,11-3,11-2
Round of 16 –  (2) Jean Claude Jeffrey defeated (5/8) Jacob Gillezeau (T&T) 11-4,14-12,11-6
Girls Under 17
1st Round –  (1) Mary Fung-A-Fat defeated Ashley Fox (BAH) 11-1,11-1,11-2
Quarter Finals – (2) Ashley deGroot defeated (5/8) Emily Farah (T&T) 11-1,11-7,11-6
Quarter Finals – (1) Mary Fung-A-Fat defeated (5/8) Alex Marshall (BER) 11-4,11-6,11-2
Boys Under 17
1st Round –  (1) Jason Ray Khalil defeated Cody Stafford (CAY) 11-4,11-2,11-3
Quarter Finals – (1) Jason Ray Khalil defeated (5/8) Beau Orchard (BER) 11-5,11-4, 11-2
Girls Under 19
1st Round –  (1) Keisha Jeffrey defeated Zoe Lisk (BAR) 11-4,11-3,11-1
1st Round –  (3) Kayla Jeffrey defeated  Amanda Walker (BAR) 11-1,11-3,11-0
Quarter Finals – (1) Keisha Jeffrey defeated (5/8) Kelly Barnes (BER) 11-3,11-4,11-9
Quarter Finals – (3) Kayla Jeffrey defeated  (5/8) Rachel Barnes (BER) 12-10,11-2,11-9
Quarter Finals – (2) Ashley Khalil defeated  (5/8) Lauren Mahfood (JAM) 11-3,11-4,11-4
Boys Under 19
1st Round –  Lee Fung-A-Fat lost to (9/16) Josh Myren (CAY) 6-11,2-11,6-11
1st Round –  Jason Van Dyk lost to (9/16) Van Rolle (BAH) 1-11,8-11,3-11
Round of 16 – (3) Alex Arjoon defeated (9/16) David Lawrence (JAM) 11-7,11-7,11-5
Round of 16 – (5/8) Deje Dias defeated (9/16) Johnathan O'Dowd (BAR) 11-8,11-5,11-4
Around the Web