-Green pleased with showing of male veterans
Fresh from a successful staging of its first veterans table tennis tournament the Guyana Police Force (GPF) is planning a second tournament with the ladies in mind.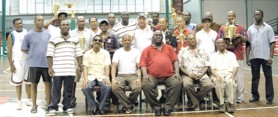 Commissioner of Police, Henry Greene, yesterday told Stabroek Sport that his organization was looking at staging a veterans' tournament for women shortly.
"We would love to see the advent of the veteran women's players," Greene declared.
He added:" I understand that former national women's singles champion Desiree Lancaster is still active."
The Guyana Police Force and Greene, are basking in the euphoria of a successful three-category veterans' tournament held July 5 at the Cliff Anderson Sports Hall.
The tournament has been getting rave reviews not only for the excellent organization headed by Assistant Superintendent of Police, Colin Boyce, and Corporal Andrew Daly, but also for the hefty cash prizes and trophies.
Former national table tennis player Donald Duff was the winner of the over-35 and over 40 categories while another former national player Patrick Triumph carted off the Over-50 category.
In the over-35 final Duff Xenophen Goliath 11-9, 9-11, 6-11, 11-5, 11-3.
Third place went to Triumph who defeated Murray 11-9, 11-7, 2-11, 11-3.
In the over-40 final Duff defeated Floyd Conway of Berbice 11-8, 11-7, 11-5 while Triumph defeated Goliath 11-3, 13-15, 11-5, 11-8 for third place.
In the Over-50 final Triumph defeated Murray 12-10, 11-4, 11-0 while Goliath defeated Muniram Persaud 11-3, 11-7, 11-8 in the third place play-off.
Greene yesterday declared that he was pleased with the way the tournament was run.
"It was an excellent tournament. It was fantastic to see former national players Balkissoon, Triumph and Duff in action," he declared.
The commissioner also lauded the performances of Bruce Murray who reached the final of the over-50 category before losing to Triumph and Conway who ousted Triumph in the semi-finals of the over 40 category.
Conway was down 0-2 against Triumph but in a battle of the forehand smashers roared back to take the next three games.
"I was so happy to see the players from Berbice and Ogle, to see these guys playing.
"They played at a high level. Table tennis is one of the games that I love and it is on the move," Greene said.
The veterans' tournament attracted a number of senior members of the Guyana Police Force including Assistant Commissioners Leroy Brumell and George Vyphius, Public Relations Officer, Ivelaw Whitaker, Senior Superintendent Michael Young and Inspector Neville Cadogan.
Also present were Georgetown Mayor Hamilton Green and PNC vice-chairman and Attorney-at-Law, Basil Williams.
Director of Sport Neil Kumar and general secretary of the GTTA Godfrey Munroe also addressed the gathering.
Around the Web