By Tamica Garnett
The Enmore Athletics Club has returned with a fresh batch of trophies won in various events at the recently-concluded Hampton Games in Trinidad and Tobago.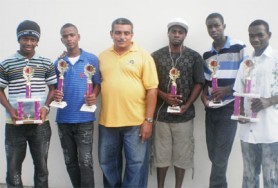 According to manager/ coach John Martins, the club attended the event with a six-member team, consisting of five athletes and captured two first placed trophies and four second places.
Top participant Malcolm Walcott, vying in the  under-17 category, was  first in both the 800m and 1,500. Walcott won the 800 running a time of  two minutes,  4.19 seconds, while his four minutes and 20.90 seconds timing led him to the 1500m win.
Walcott was fully-sponsored by Mohamed Rahim and Sons of Beterverwagting.
Ornesta Thomas, one category below Walcott, was also in second place in the boys under-15 800m and 1,500m. Thomas, in two minutes and 10.97 seconds, took second place in the 800m and was also second in the 1500m at two minutes and 10.87 seconds.
Calvin Belgrave took a double achievement in the boys under–15 400m. Topping his personal best Belgrave won the race in 53.37 seconds.
Belgrave, who was fully sponsored by Fitness Express, also ran 200m, finishing first in his qualifying heats but ending fifth in the finals.
Also apart of the team was ace sprinter Kenneth Semple, running a time of 10.83 seconds in both the qualifiers and in the finals he came in fifth  in the 100m men's open. However suffering from a hamstring injury Semple only participated in the open 4x100m relay.
Semple had been in Trinidad a few weeks prior to the Hampton Games  to participate in a number of additional  meets aimed at developing the budding star. This entire venture was sponsored fully by Toolsie Persaud Limited.
The final team member was Keith Gordon who participated in the 800m, 1,500m in the under-20 category and in the men's open 5,000m. Coach Martins stated that in the seven years that he and his contingent have been attending the event,  this year was the best that they have experienced in terms of achievements.
"This year was the most rewarding, we've competed at the Hampton Games since 2004 and this year was the best so far. Last year we took an eight-man team and it wasn't so successful, we came back with only one gold and one silver, so I am very happy with this year's performance," Martins stated.
He also noted that the Enmore Athletics Club has  members residing  between Mahaica and Beterverwagting on the East Coast.
Martins said that he was very grateful to the parents of the athletes and  the sponsors for their support in making the venture a possibility.
The team was also sponsored by Jerrick's One Stop Hardware Store, Ansa McAl, Motor Trend Auto Spares, Goodham's Bakery, Metro Office and Computer Supplies, Guyana Public Service Credit Union and the Institute of Business Education, among others.
Around the Web