East Coast Cricket Board (ECCB) convened its ninth cricket academy for aspiring cricketers yesterday morning at the Chetram Singh Centre of Excellence, La Bonne Intention, East Coast Demerara.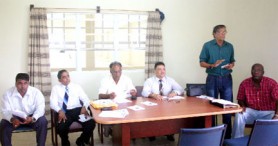 At the opening ceremony were Director of Sport Neil Kumar, ECCB president and acting president of the Guyana Cricket Board (GCB) Bissoondyal Singh, former national and first class speedster Robert 'Pacer' Adonis, GCB representative Ronald Williams, ECCB vice-president Samaroo Jailal, and ECCB competitions committee member Raymond Barton.
Singh said in addressing the opening that 65 young cricketers, including  17 females, had registered for the two-week activity. And although only 20 perspective participants turned up, Singh was hopeful that the turnout will improve as the academy progresses.
The former cricketer also took time to urge other boards to conduct exercises like this one in an effort to help aspiring cricketers to hone their skills in the correct manner.
He believes that these academies for the nursery of cricketers will also aid in the improvement of the general standards of Guyana's cricket from the youth level to the senior cricketers.
Coaches Daniel Richmond, Hardeo Sattaur and Latchman Yadram will be the personnel working with the youngsters during their training stint.
Director of Sport Kumar told the young cricketers that they were fortunate to be part of such a programme and should feel privileged to be hosted at the recently opened LBI facility.
He said further that the academy will teach them skills outside of being  a good cricketer and they will also learn the craft of scorer, umpire, journalist and  curator, to name a few.
He said the content of the programme  is a good one and urged the youngsters to take  full advantage of what will be offered to them during their two weeks at the training facility.
Participants were drawn from Ogle to Abary and they will get to interface with the senior national cricketers who will be encamped at the facility ahead of the upcoming Caribbean Cup later this month.
Resource personnel will also be discussing the following subject areas throughout the duration of the programme: History of West Indies cricket (Edwin Seeraj), Laws of Cricket, part one (D. Anandjit), Laws of Cricket part two (D. Anandjit), Scoring (S Anandjit), Road Safety (Cove and John Police officer), Careers in Cricket (SK Singh), Drugs and Sports (Representative of Ministry of Health), Importance of Education (Regional Education Officer of Region 4), Scoring, part two (S. Anandjit), Leadership and Sportsmanship (Roger Harper), HIV and Teenage Sex (R. Anandjit), Effects of Smoking (D. Rampersaud), Foods and Nutrition (Dr. Haynes), Social Etiquette/Grooming (Penelope Harris), Formation of Clubs (Ronald Williams), Discipline (Claude Raphael) and Leadership and Administration (Neil Kumar).
Around the Web