By Tamica Garnett
The Guyana Lawn Tennis Association's (GLTA) P & P Insurance Brokers Limited sponsored lawn tennis Summer Camp finally got underway yesterday at the Le Meridien Pegasus Hotel courts following Monday's rained out opening day.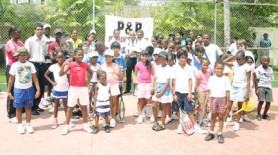 The beginners classes have already attracted 30 players between the ages of 4-11 years with little Makaila Henry being the youngest of the bunch.
The camp had been postponed on Monday after rains flooded the courts but got off to a bright start yesterday as the excited youngsters unleashed their pent up excitement on the courts, and quickly made up for Monday's setback.
The camp, which is open to individuals between 6 – 18 years old, has been sponsored for the past six years by the GLTA in collaboration with P & P Insurance Brokers as a part of the association's ongoing efforts to arouse the younger generation's interest in the sport.
The camp will run for two weeks with sessions for the various categories held daily from Monday to Friday. The beginners session will be held from 8:00hrs – 11:00hrs and this is will be followed by the intermediates session at 11am and the advanced sessions afterwards.
The beginners and intermediate sessions will be co-ordinated by Shelly Daly-Ramdyhan and Nicholas Glasgow while the advanced sessions will be conducted by Ezra Sue-Ho and Jeremy Miller.
In a presentation ceremony Managing Director of P & P Insurance Brokers, Bish Panday, handed over a cheque to the association for sponsorship of the event.
In a brief speech Panday stated that the insurance company was very happy to sponsor the event, particularly because it involved youths.
Panday added that he was very pleased with the significant turnout and commended the parents for supporting their kids in the sport.
The managing director also commended the executives of the GLTA for bringing "energy, vision and drive" to the sport.
"I wish to commend the executives of the association for the way they have been managing the sport in the recent times. They have brought energy, vision and drive – these are qualities that are not found in every sporting association," Panday noted. He then challenged the  youngsters to show determination towards the sport, and stressed that the key reason behind the sponsorship of the event was that it involved youths. Also getting onboard will be the Guyana Bank for Trade and Industry, which has volunteered the use of its  tennis courts at the GBTI Recreational Centre in Bel Air Park.
The advanced sessions are expected to alternate between the courts at Pegasus and GBTI. Today the advanced session will take place at the GBTI courts from noon.
Around the Web