Led by their three individual Caribbean singles champions Guyana girls yesterday were in a non-nonsense mood routing Bermuda and the Cayman Islands  teams by 5-0 scores as the team competition of the annual Caribbean Squash Championships got underway in the Cayman Islands.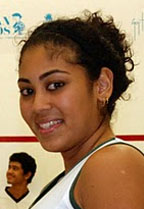 Against Bermuda, Caribbean U-19 champion Ashley Khalil powered past Kelly Barnes 11/3, 11/5, 11/8 while Keisha Jeffrey stopped Keisha Barnes 11/2, 11/5, 11/7 in another U-19 match.
Caribbean U-17 champion Mary Fung-A-Fat then destroyed Alex Marshal  11/5, 11/1, 11/0 and her counterpart Caribbean U-15 champion Victory Arjoon gained an 11/5, 11/8, 11/6  victory over Emma Keane.
Taylor Fernandes completed the rout with an 11/3, 12/10, 11/8 victory over Madeline Rose in their U-13 clash.
The Guyana girls showed no mercy to the Cayman Islands with Keisha Jeffrey defeating Eilidh Bridgeman 11/3, 11/7, 11/4; Kayla Jeffrey beating Anya Belafonte 11/1, 11/2, 11/3 ; Fung-A-Fat getting the better of Kristina Myren 11/5, 16/14, 11/8; Arjoon dispatching Lara Connolly 11/0, 11/1, 11/1 and Larissa Wiltshire mauling Nina Foster 11/1, 11/0, 11/1 in an U-13 encounter.
The boys' team, however, suffered mixed fortunes winning against Bermuda but losing to the Cayman Islands.
Ben Meckdeci was the hero of the Guyana boys' team when he pulled off the decisive victory to enable the boys' team to run out 3-2 winners over Bermuda in their second round Pool A clash.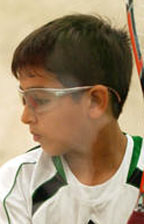 With the two teams locked at 2-2 Meckdeci defeated a gallant Dylan Pratt in the decisive rubber to give the Guyanese an important win following their 2-3 defeat to host Cayman Islands in the opening Pool A match.
Earlier Guyana boys went under 2-3 to the Cayman Islands with Cameron Stafford, Alex Fraser and Iain Mc Callum scoring wins.
Stafford defeated Alex Arjoon, 11/5, 11/6, 11/7 in an U-19 encounter, Frazer beat Deje Dias 11/9, 10/12, 11/5, 11/5 in another U-19 match, and Mc Callum defeated Meckdeci 11/1, 11/8, 11/0 in the U-13 category .
Guyana's two wins came from Jason Ray Khalil who beat Nicholas Cameron 11/9, 11/5, 12/10 in their U-17 clash and Jean Claude Jeffrey who defeated Julian Jervis 11/2, 11/1, 11/7 in the U-15 category.
Against Bermuda, Guyana secured wins from Dias, Jeffrey and Meckdeci.
Dias defeated Chris Stout 11/8, 11/5, 11/8 while Jeffrey defeated D'Vario Thompson11/7, 6/11, 11/7, 11/7 and Meckdeci beat Pratt, 11/5, 11/5, 11/6.
Bermuda's wins came from Micah Franklyn who defeated Arjoon 11/9, 11/4, 11/9 and Noah Brown who beat Khalil 11/5, 11/8, 11/9.
Around the Web