Dr. Johann Da Silva, K. Harripersaud and Gordon Richards won their respective divisions at last weekend's Modern Optical sponsored Pistol Shooting championships staged at the Timehri ranges.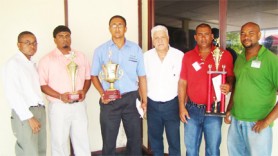 Dr. Da Silva secured victory in the 'A' Class category after staving off a strong challenge from Joseph Chin and Dale Hing, all representing the Guyana NRA handgun team.
Chin had secured victory in the first stage but Dr. Da Silva bounced back to secure top honours in the second and third stages of the competition.
Harripersaud of Presidential Guard, proved too strong for his colleague D. Tularam while Col. Persaud of the Guyana Defence Force placed third in the 'B' Class category.
Richards, of Guyana NRA battled to first place in the 'C' Class category beating into second position Lieutenant White of the GDF while G. Pertab of Presidential Guard placed third.
Managing Director of Modern Optical Service Dr. Jose Da  Silva Snr. who sponsored this year's competition made a commitment to sponsor the event annually.
He also expressed pleasure in witnessing different organizations come together to participate in one of the most disciplined sporting events locally.
The competing teams were Guyana NRA, Guyana Defence Force, Guyana Police Force and  Bank of Guyana Security.
The shoot was a practical pistol event made up of three stages.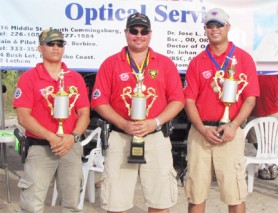 There was a classification shoot to place all shooters into their respective categories of  A, B & C classes.
Below are the results of the three stages and their categories.
Class A     Stage 1 – Joseph Chin, Dr. Johan Da Silva and  Dale Hing
Stage 2 – Dr. Johan Dasilva, Ryan Mckinnon and  Joseph Chin
Stage 3 – Dr. Johan Dasilva, Joseph Chin, H. Harry
Class B    Stage 1 – K. Harripersaud, D.Tularam & Col. Gaskin
Stage 2 – M. Mclean, W. Lambert, D. Tularam
Stage 3 – K. Harripersaud, Col. Persaud, Col. Terry Stuart
Class C   Stage 1 – Gordon Richards, V. Chanderballi, Cpl. Abrahams
Stage 2 – Gordon Richards, G. Pertab, Lt. White
Stage 3 – Lt. White, Gordon Richards, G. Pertab
Around the Web