Beverage giants Banks DIH Ltd., yesterday presented the National Under-17 football squad with  Banks Malta equipment bags in preparation for the team's departure to Dominica for the Caribbean Football Union (CFU) men's Under-17 Group stage World Cup qualifying  series this weekend.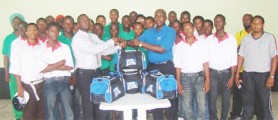 The National Under-17 players and management staff were taken on a tour of Banks Complex at Thirst Park which  was followed by a simple ceremony where 24 bags were presented to the players and coaching staff.
Banks Malta Brand Manager Clayton McKenzie said that his company was pleased to support the junior footballers in their quest to bring glory to Guyana.
"We are extremely pleased to lend assistance to the players and as a company we are confident that they will excel at the upcoming competition," McKenzie said.
Team manager Carlos Bernard thanked Banks for their kind gesture and indicated that the players are in high spirit and a lot is expected of them."
Also present at the presentation was Banks DIH Communications Manager Troy Peters who offered words of encouragement to the players and coaching staff.
According to Peters, with the World Cup finals just completed and the Lady Jaguars success at the recent World Cup preliminary competition, now is the time for the Under-17 players to shine.
The National Under-17 will oppose Netherlands Antilles, Aruba and hosts Dominica in the four-nation playoff billed to start next Tuesday with Guyana taking on Netherlands Antilles in their opening fixture.
The Guyanese will then take on Dominica on July 22 and will play their final game against Aruba on July 24 at Windsor Park Stadium.
Meanwhile, the final squad was scheduled to be selected last evening.
The management team comprise Carlos Bernard – manager, Sampson Gilbert- coach, Lindley Langhorne – physio-trainer, Lyndon France – Technical Development officer.