By Marlon Munroe

Former West Indies and Guyana batsman Basil Butcher says that should the merger between the Georgetown Cricket Club (GCC) and the Georgetown Football Club (GFC) materialise, it would "be a sinful act against cricket".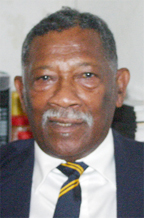 Butcher told Stabroek Sport yesterday that anyone who would harbour a thought to destroy the historic Bourda ground does not know the true significance of the venue to Guyana and cricket around the world. He suggested too that such a move would leave many persons disappointed and disheartened.
The government is currently penning a comprehensive proposal outlining its vision for the possible merger of the two grounds to create a sports facility. This "exploratory" proposal was discussed when executives of the GCC and GFC had a meeting with Government officials two months ago. If the proposal is accepted, the new facility will contain a synthetic track for athletics and a football field in the centre. There will, however, be virtually little space for cricket to be played at the Caribbean's oldest ground and this has caused concern for many members of the GCC.
The Port Mourant-born cricket icon said that he believes in the development of sport but not at the expense of destroying history. "I am sure there are other sites for such a facility to be constructed. That ground (Bourda) holds immense value and cricket can do so much for young people especially when they can say that they played at Bourda, which is renowned around world," Butcher emphasised.
Butcher also noted that Bourda should have been properly taken care of in the past by the relevant authorities. If this was done, he believes, there would not have been talks to now merge the two facilities and more so cricket would not have been out of the equation.
Butcher, 76, who played 44 Test matches and scored 3104 runs at an average of 43.11 with seven hundreds and 16 half centuries, believes that "the Sport Ministry and Government doesn't genuinely care about sports". He conceded that there seems to be a push for cricket, but added that it seems this is being done without the realisation of what "sports, in general, can do for a country".
Meanwhile, President of the Guyana Cricket Board (GCB) Chetram Singh feels that that the GCC ground should remain a cricket haven because of the "history the Bourda ground holds". Singh says that he will be "extremely" disappointed if the GCC is merged with the GFC ground since the facility is still used to host Regional First Class cricket matches.
He says if the GCB executive is asked for its input on the issue then it will stand against such a move. He, however, feels that the present division on the board could somehow conspire against a united stand on the matter. Nevertheless, he says he will make his opinions known should the proposal reach the board level.
Singh maintains also that development is necessary in sport but he supports Butcher's view that it must not be at the expense of such a prominent and historic facility.
The Bourda ground has a capacity of around 22,000 and was opened in 1884. The venue hosted its first Test match in February 1930 between West Indies and England. The Caribbean side won by 289 runs and George Headley scored a century in each innings.
Cricket matches between Trinidad & Tobago and GCC were also played there from as early as 1883, and later between GCC and teams from Britain in 1895 and 1897.
Around the Web