Commissioner of Police Henry Greene donated airline tickets to three national table tennis players participating in the Central American and the Caribbean (CAC) Games in Puerto Rico.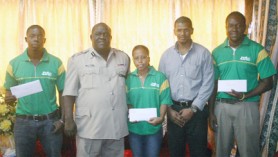 Greene had solicited assistance for the team and was able to accumulate enough funds to acquire airline tickets for Natalie Cummings, Christopher Franklin and Idi Lewis. The players expressed gratitude to the Commissioner at a brief presentation ceremony held at his office yesterday. GTTA Secretary Godfrey Munroe also conveyed his gratitude.
The table tennis team travelling to the Games comprises six members. The other three players: Michelle John, Trenace Lowe and Paul Davis will travel to Puerto Rico from the USA. Lewis is the team captain.
Last month the GTTA was sceptical that it would have been able to send a team to the Games due to the lack of funds. Prospects seemed even dimmer after the judo, weightlifting and football associations had all opted out of attending because of money woes.
Munroe told Stabroek Sport that he was elated that the team will participate as it will be a great opportunity for the players to test their skills against international players. He said too he is optimistic about the team's prospects as they have been undergoing vigorous training over the past month to prepare for the Games. The players are set to depart Guyana on Tuesday.
Around the Web