The Tactical Services Unit (TSU) team yesterday trampled the Felix Austin Police College (FAPC)–Berbice team 3–0 to emerge as the winners of the team category on the first day of the Guyana Police Force (GPF) Inter Division and Branches Table Tennis Competition held at the Sergeants and Inspectors' Mess, Eve Leary.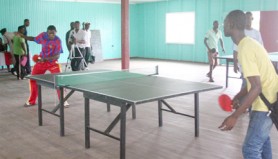 In the third place play off, the FAPC-Georgetown delivered a similar defeat to the Band Room team, to cop the last award-bearing position.
With a total of eight teams, consisting of three players each, competing in the team events of the opening day, the GPF yesterday initiated its revival of table tennis competitions among the members of the varying divisions
The other four teams that took part in the team events were 'B' Division, 'D' Division, Criminal Investigation Department (CID) and 'E" Division.
In a brief opening ceremony the newly appointed Chairman of Indoor Sports, David Ramnarine, acknowledged that it has been a while since the Force has held an official table tennis competition, but affirmed that he would make that a thing of the past.
The Assistant Commiss-ioner stated that the revival of the sport was all the more significant as the Force is celebrating its 171st anniversary.
Table tennis is just one of the indoor sports that the GPF has been implementing with the aim of developing the extra curricular talents of the members of the forces. Ramnarine disclosed that dominoes, darts scrabble, chess, draughts and to the lesser extent indoor basketball were also on the list of sports being implemented.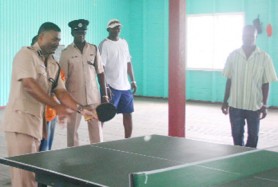 Ramnarine stated that the force was taking the step towards revitalizing the sports to develop the fitness and dexterity of the players. It would also teach the players discipline.
Moreover, Ramnarine disclosed that once sufficient interest in the sport is generated the force will be looking to make the competitions a fixture.
Additionally, as one of the players, Constable Darrell Ramsay, pointed out, the competition also plays a beneficial role in improving the social cohesiveness between the varying divisions. Ramsay said that he was pleased with the opportunity to interact with fellow members of the force in such a conducive atmosphere.
He also noted that he was also very glad for the opportunity to once again get involved in the sport, as he participated during his younger years.
The event will continue today with the individual events. Trophies will be awarded to the top three winners of each of the categories and will be presented to the players this afternoon at the end of the competition.
Around the Web