By Floyd Christie
The 2010 Central American and Caribbean Games will be held in Mayaguez, Puerto Rico from today to August 1 and 19-year-old Continental Cycling Club cyclist Geron Williams has his eyes fixed on CAC gold.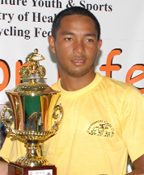 This will be Williams' first appearance in the quadrennial event and the young, talented cyclist has been dishing out notable performances in recent race meets overseas while undergoing training in preparation for the games.
Williams has been absent from the local cycling arena since his six-week stint of training and racing at Trek Team in Trinidad and Tobago earlier this year.
Since then he has been training in Pennsylvania in the United States for his inaugural CAC games appearance.
Williams participated in a number of meets including the 2010 Southern Games Cycling Criterium in Marabella, San Fernando, the Trinidad and Tobago Cycling Federation/Sport Company of Trinidad and Tobago Easter Grand Prix and the Beacon Series competition during the period March 18 to April 24.
Recently, Williams continued his performances in Category Two events in Pennsylvania and other parts of the United States. As the games draw nearer, Williams continues to improve with his most recent race being in The Valley Preferred Cycling Center 24-7 Fitness Clubs Pro-Am on July 13 where he placed fourth in the five-lap Scratch Race.
Acting President of the Guyana Cycling Federation, Cheryl Thompson told Stabroek Sport on Thursday  that she was pleased with Williams' performance and preparations and that she has high expectations based on his recent performances in the United States.
"Based on present performance, I'm expecting him to medal," Thompson said.
Thompson also expects a top class performance from Alonzo Greaves, who hails from the Roraima Bikers Club and will be accompanying Williams in representation of Guyana at the CAC Games.
Of Greaves, Thompson said: "I expect Alonzo Greaves to medal too… he is a strong cyclist and based on preparations he is capable of holding his own."
Williams and Greaves will contest their first CAC cycling event on July 22 in Aguadilla, Puerto Rico.