Geddes Grant Limited on Friday presented shirts and vitamins to the National Under-17 footballers who depart Guyana today for Dominica to compete in the Caribbean Football Union (CFU) World Cup Group stage qualifying series.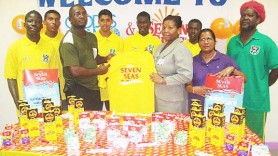 June-Ann Eastman, Coordinator of Pharmaceuti-cal and Personal Care Department at Geddes Grant presented 25 polo shirts and Seven Seas multi vitamins to team manager of the Under-17 team Carlos Bernard in the presence of head coach Gilbert Sampson and several players of the squad at a simple ceremony at Geddes Grant Head Office at Ruimveldt.
Eastman said that Geddes Grant was extremely pleased to make the donation under the Seven Seas brand to the footballers who she expects to excel during their visit to Dominica.
"The management and staff of Geddes Grant support your endeavours and look forward to you bringing glory to Guyana," she added.
Bernard expressed gratitude to Geddes Grant and expressed delight in the support the team has received from corporate Guyana.
The National Under-17 footballers will travel to Dominica today and will go into against the Netherlands Antilles on Tuesday. They will then take on hosts Dominica on July 22, with the final game against Aruba on July 24 at Windsor Park Stadium in Roseau.
Meanwhile, The Guyana Football Federation (GFF) announced a squad of 18 players last Thursday to compete in the World Cup preliminaries.
The players are: Romario Hughes, Mohamed Ali, Julius Griffith, Jamaal Booker, Mark Walton, Dicquan Vancooten, Ashley Harding, Marlon Lashley, Deshane Garnett, Pernell Schultz, Emitt Leacock, Keson Dey, Nickel Fraser, Domini Garnett, Rolex Martin, Randy Persaud, Sherwin Lewis and Kerwyn Benjamin.
Around the Web