– Hendy Springer recommends that the WICB persist with the A team tours since it serves a "serious purpose"
Cozier on Sunday
It lasted just a week short of three months, touched four countries spread across the planet and included international matches against five different opponents.
Still the West Indies 'A' team's recent globe-trotting venture was largely ignored. Overshadowed by two simultaneous World Cups – cricket's Twenty20 in the Caribbean and football's World Cup in South Africa – and blighted by the home public's declining interest in the game, it received little attention.
When it ended, just over a week ago, its players went their separate ways without a query about their performances or the overall value of the venture.
Such details will have to be covered in the reports of manager Lindel Wright and coach Hendy Springer to the West Indies Cricket Board (WICB).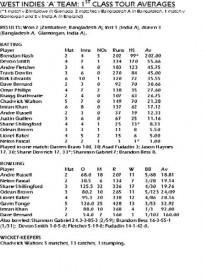 As Springer put it, the 'A' team "serves a serious purpose in preparing players for international level." It is "a stepping stone into the senior team."
His report recommends that it be kept on a permanent basis with a "properly staffed" structure. He sees it as the logical move for graduates who qualify from the recently-established Sagicor High Performance Centre.
Since he is full-time director of coaching with the Barbados Cricket Association (BCA) and simply seconded to the WICB for this assignment, it is not as if he is soliciting a job.
Apart from monitoring the strictly cricket development of the players – batting, bowling, fielding, keeping – Springer regards the 'A' team as "an opportunity to identify potential leaders".
"We have a shortage at present of those we can point to as captaincy material," he said. "Time in the 'A' team should be seen as part of an apprenticeship in captaincy."
He identified Kirk Edwards and Omar Phillips of this team as two who spoke "very strong and interestingly" in relation to situations and tactics of the game.
"I like to hear that as a coach, where guys are actually thinking about the game and showing a cricketing awareness," he said. "You don't get that much from young players now."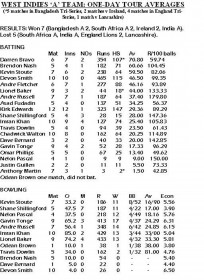 Such proposals have been enacted long since by most other countries which undertake two, sometimes three, such series annually. For a variety of reasons, this was the first for the West Indies since they hosted England 'A' in 2006.
As it replaced a second round of the regional first-class season, there was some  opposition, even from within the WICB itself as well as from the West Indies Players Association (WIPA), based on the need for as much exposure as possible for all players.
The WICB chief executive Ernest Hilaire explained that financial constraints meant a choice had to be made between the two and the 'A' team was preferred.
The last such overseas tour was in 2002 to England, Ireland and Canada. That was described by Wisden Cricketers Almanack as "a bad-tempered meander round the   backwaters of English cricket… which demonstrated how badly the gleaming pride of past West Indies sides had rusted". Sulieman Benn (yes, the same one), Tino Best and Runako Best were all fined for indiscipline at the end.
There was no repetition this time. Springer affirmed that he was satisfied with the discipline and attitude of the players, if not completely with the overall fitness.
Fielding was another of his worries. "We need to work with the same diligence on our fielding as we do on our batting and bowling," he said. "You need a strong slip cordon to support your seam bowlers, fast outfielders with strong arms to back up your spinners."
"We spend a lot of time in the field because we take the pressure off the batsmen by misfielding and dropping catches. We regularly have to bowl at batsmen twice because of mistakes in the field."
So what about a fielding coach?
"It's a necessity but if you're going to bring a coach from overseas, his job should not be just to teach the teams and the High Performance Centre boys but, more importantly, to coach local coaches who can work down the chain," he said.
Generally, Springer was satisfied with the 2010 tour.
There was more purpose to the matches, especially one-day, tri-series against Bangladesh 'A' and South Africa 'A' in Bangladesh and India 'A' and England 'A' (the Lions) in England. There were two first-class matches each against Bangladesh 'A' in Dhaka and India 'A' in England.
Results, collectively and individually, were mixed. There were first-class victories over a full Zimbabwe team in Grenada prior to the World Twenty20 and over Bangladesh 'A'.
A loss by six wickets over four days to India 'A' was followed by a draw in the second match when an India 'A' total of 543 for eight declared was overhauled, mainly through a third wicket partnership of 225 between captain Devon Smith and Andre Fletcher.
After winning all four matches in the qualifying round of the tri-series in Bangladesh, they fell to South Africa by five runs in a high-scoring final.
They reeled off two wins over Ireland, the No.1 ICC associate team, and overwhelmed India 'A' by 166 runs in the first match of the tri-series in England only to lose four in a row (two to England Lions, one to India 'A' and one to Lancashire) in a discouraging finale to the tour.
In keeping with Springer's aim of preparing players for the Test team, off-spinner Shane Shillingford's success against Zimbabwe and in Bangladesh earned him a summons to the West Indies team for the Tests against South Africa.
Darren Bravo had scores of 69, 107 not out, 62 not out, 69, 102 and 37 in Bangladesh after which he was also recalled for the South African series.
Not included in the Tests, he returned to England and stroked 83 and 62 in his first two matches in the tri-series.
With Jerome Taylor injured again and Kemar Roach unavailable for the first Test against South Africa, Nelon Pascal was brought in from Bangladesh to fill a fast bowling spot.
With 31 Tests behind him, Devon Smith was the most experienced player in the team. He was also the leading batsman.
Rather than Smith, Springer was more concerned with the advance of the newer, younger players.
Bravo, 21, and Pascal, 23, were two who earned promotion.
Andre Fletcher, 22, had the chance to play longer innings than the Twenty20s that had been his role with the senior team and averaged in the mid-40s in both first-class and one-day matches in England.
Andre Russell, 22, suddenly emerged as a worthy swing bowler and low-order power-hitter after just one regional match for Jamaica last season. Another all-rounder, Kevin Stoute, 24, made the most of his late call on the England leg.
And Odean Brown's flighted leg-spin earned acclaim in both forms in Bangladesh.
There were inevitably disappointing individual returns but the experience should be adequate compensation. And that is what the 'A' team is about.
Around the Web