By Floyd Christie
Vice-president of the Guyana Cycling Federation (GCF) Brian Allen feels that Guyana's three-member cycling team to the 21st Central American and Caribbean Games now underway in Puerto Rico, is at a disadvantage.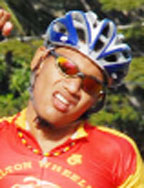 Guyana will be represented by Alonzo Greaves, who departs Guyana today and Geron Williams and Claire Fraser who will be travelling to Puerto Rico from the United States of America and the United Kingdom respectively.
"Because we don't have a Velodrome here to practice track cycling he [Greaves] will have to adapt when we leave here and go into the time trials," Allen told Stabroek Sport on Saturday.
Allen, who is also president of the Roraima Bikers Club, said he expected great things from Greaves whom he described as "one of the success stories of Guyanese cycling."
"If Greaves rides to his full potential, Guyana should expect great results from the talented cyclist," he added.
Allen also disclosed that the team will also be at a disadvantage because of its limited members, in comparison to a six-member team that would be able to drive and motivate each other during the road racing events.
Even in light of this downside, the optimistic Allen is still expecting podium positions.
"The guys are well equipped for the pressure," was his take.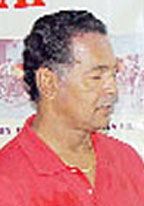 Greaves and team will be in the gold medal hunt in the cycling events which begin with the Time Trials on Thursday in Aguadilla, Puerto Rico.
The team will be managed by William Howard, who is also the treasurer of the (GCF).
Although this will be his first CAC Games, Greaves is no stranger to international cycling activities, having challenged the Caribbean's finest on numerous occasions in Trinidad and Tobago.
He has also held his own amongst the best during two stints in the United States where he also underwent special training under former national champion Aubrey Gordon in Pennsylvania.
Greaves was slated to return to the United States for training prior to the CAC Games, but his trip was cancelled after he received his US visa late.
However, not deterred, Greaves has been preparing locally.
He has undergone intense training in the gym doing weights for his strength routine and on the saddle, traversing the Linden Highway under the watchful eyes of coach Linden Dowridge.
The determined Greaves has been so absorbed in his CAC preparations that he sidelined himself from some local race meets recently.
He has been criticized by many for missing the events, as some feel that he should have been participating in the races to better prepare for the CAC Games even though he has participated in 16 of the 20 meets staged locally.
Around the Web