By Floyd Christie
The thunderous revs of Andrew King's engine overshadowed thunders emanating from rain clouds over the South Dakota Circuit yesterday and was his only companion as he took the chequered flag unchallenged in the three Group Four races at the Guyana Motor Racing and Sports Club Race of Champions.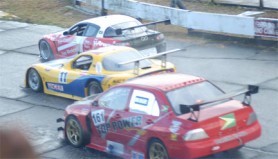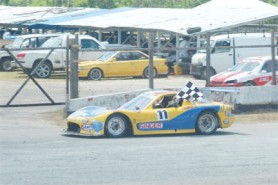 Although experiencing some mechanical problems earlier in the day, King reigned supreme even as he met his toughest challenge when the battle for supremacy climaxed in the final Group Four race of the day where the champion fended off his rivals Mark Vieira and Kevin Jeffrey on a rain-soaked track.
Mechanical problems plagued Vieira's machine for the day's entirety, and even as he appeared to have things in-tune in the final Group Four rac,e the first place still eluded him and  his day ended with him losing control of his RX-8 on the wet surface, spinning out of control and remaining stuck in the dirt on the Club House turn.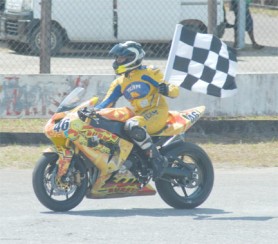 Trinidadian Ravi Singh dominated the Group Three races and burned up the track to the extent that he almost set his car alight when the side of his Mazda RX-7 caught fire from flames spewing from his car's exhaust pipe after his race. The flames were quickly extinguished by a fireman with an extinguisher on standby.
Although starting half a lap behind because his more powerful 1000cc bike would give him the advantage over his competitors with lower Cubic Capacity (cc) under their seats, the Superbike category was ruled by the local 'Valentino Rossi', Stephen Vieira, who snatched the chequered flag in all three superbike races yesterday.
See more details in tomorrow's issue.
Around the Web