By Tamica Garnett
Mohamed Rahim and Sons business enterprises of Beterverwagting, East Coast Demerara, has decided to extend its sponsorship of promising athlete Malcolm Walcott following his good showing at the Hampton Games held earlier this month.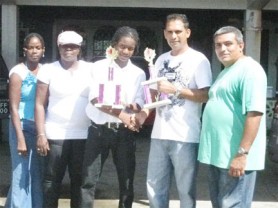 Walcott, a member of the Enmore Athletics Club (EAC), earned two first place trophies at the international meet prompting the business to offer him a continuous "package sponsorship."
The terms of the sponsorship is that the business will cover the monthly cost of Walcott's athletic expenses on a month-to-month basis.
Coach of the EAC, John Martins, extended profound gratitude to the Rahims for the benevolence bestowed on the athlete and indicated that he has several plans for Walcott's advancement in the sport.
The store, which specializes in the sale of heavy duty equipment and machinery, first began its association with the 15-year-old when they fully sponsored the youth's attendance to the Hampton International Games (HIG) held in Trinidad and Tobago earlier this month.
Noting Walcott's capabilities and, driven by their need to give something back to their community, manager of the Store, Shahan Rahim, then declared his intentions of hammering out  more solidified sponsorship agreement with Walcott upon his return from the Hampton Games.
Speaking with Stabroek Sport on Friday, Rahim said that he felt compelled to sponsor the youngster after he discovered that he was being brought up by his mom in a single parent home.
Rahim stated that he felt that it was a social responsibility of the business to give back to a youth from within its very own community.
Martins said that foremost on the agenda was getting into a "seasoned" programme in preparation for Walcott's selection to represent Guyana at prestigious meets.
He made no effort to hide the fact that he was hopefully eying the youth's attendance to the upcoming South American Youth Championships.
Over the years it is regularly an uphill battle for athletes to gather the necessary monetary requirements demanded in their pursuit of the development of their athletic capabilities but thanks to the Rahims, Walcott has now been spared what has been a considerable burden for most athletes.
Walcott, who joined the EAC last year November, has already begun to show great potential with his first place wins in the 800m and 1500m at the HIG being the latest of his achievements.
Walcott, in expressing thanks to the Rahims, admitted that he felt more hassle-free now that he knows that he is financially secure where his athletic development is concerned.
"Well it was a hassle having to go around getting sponsorship and then sometimes not being able to get what you need in the end. It could be really frustrating, so I have to say thanks to Mr. Rahim for this sponsorship. I am glad that I can now put my full spirit into my training because I no longer have to wonder about sponsorship," Walcott declared.
Around the Web