By Floyd Christie
Edward B. Beharry and Company, famously known for their Champion Brand of products yesterday announced their sponsorship of the Guyana Rugby Football Union (GRFU) National Sevens team which will be partaking in the Central American and Caribbean (CAC) Games and the North American and Caribbean Rugby Association Championships at the National Stadium, Providence from July 24-30.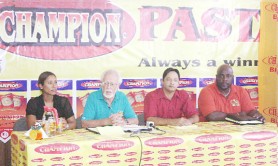 The company's sponsorship of Guyana's four-time NACRA championship winning national men's squad and the two-time winning female side also extends for the men's participation at this year's Commonwealth Games, Rugby Sevens tournament  on October 11 and 12 in India.
Edward B. Beharry and Company has now established themselves as the major sponsors of the national male and female Rugby Sevens team for the upcoming tournaments as they dished out a substantial $2M (two million dollars) in support of the team.
Speaking at a press conference held at the company's office on Charlotte Street, Vice Chairman of the company, Anand Beharry, noted that "the Champion brand is exceptionally proud to be a part of the teams' preparation for the tournaments."
Beharry revealed that his company has been partnering with the GRFU through sponsorship of the national rugby teams for a number of years. He noted that they are "very proud of the teams' successes over the years" so it was perfectly fitting for them to be integrally involved for the championships this time around.
President of the GRFU, Kit Nascimento, was also present at the press conference and stated that the union was very appreciative of Beharry's sponsorship.
"If you get sponsorship, you should deliver… Sometimes you can't always deliver a win, but I guarantee we will deliver a good performance," Nascimento stated in relation to the upcoming tournaments.
He added that the GRFU will use Beharry's funding to ensure "the teams are well prepared going forward."
Nascimento also continued to urge supporters to come out and support the national team when they play their first rugby match in the CAC Games on July 24, against Costa Rica at the National Stadium, Providence.
The GRFU head disclosed the teams' motto for the CAC Games, which is "We are going bold for gold" and "We are driving for five", which is the team's NACRA slogan.
Around the Web