By Floyd Christie
In addition to the showers of rain that drenched the South Dakota Circuit during the latter half of Sunday's Guyana Motor Racing and Sports Club National Race of Champions, Mark Vieira's Mazda RX-8 was also awash with mechanical woes and Vieira made it clear that it was "not the performance he expected."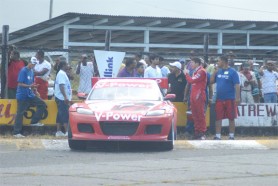 Vieira told media operatives following the race meet that his relatively new race car experienced… "a lot of mechanical problems."
But, he noted that the car is still in the development stages.
On a day that was ruled by his rival Andrew King, Vieira did not take the chequered flag in any of the Group Four races but did not blame all of his misfortune on his machine.
In relation to his losses, Vieira said that…  "the first two races were mechanical problems, but the last race was because of my mistake as I tried to keep the car off the wall."
Vieira lost control in the second lap of the final Group Four race as he approached the Clubhouse turn after battling for the lead position with King and Kevin Jeffrey. His race ended on the same turn as he was unable to regain control and he remained planted in the dirt at a dangerous position on the turn until his car was removed after the race was over.
Even though he was stuck under the wet conditions, he maintained that "the car [his Mazda] is more competitive in the rain" as compared to the dry surface. When the rains came prior to the final Group Four race, spectators seemingly expected Vieira to bounce back from his two previous losses as eyes were on the RX-8 as he braved the rain, taking his machine on some warm up runs around the wet circuit. Vieira, however, concluded that his losses over recent years were due to "the change of car", but he declared that he could not lose anymore and said he will be "getting back in shape."
In other categories contested on Sunday, Kamal Rahaman topped Group 2B, which was mostly contested by Starlets and Rameez Mohamed triumphed in the Group 2A division. Raj Singh led the way in the Rookies category. Good performances were also recorded by 125cc riders Victor Pires and Mohamed Roshandin, while they were no races in the scheduled Go-Kart division.
Around the Web