A sudden downpour in the early hours of Saturday morning created some very challenging conditions for golfers competing in the Trophy Stall Tournament at the Lusignan Golf Club, East Coast Demerara.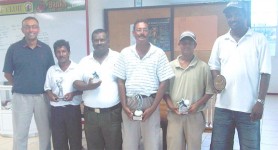 It came down to who could keep their ball on the fairway and a rejuvenated Patrick Prashad came out on top shooting a gross 76 (net 69).
Second place went to the ever-consistent Mike Mangal scoring 80 (net 72), edging out the ever improving Avinda Kishore (84 net 72).
Mike Gayadin took nearest to the pin with a fabulous shot that landed within two feet of the hole on the par 3 number 7. (Sadly he missed the birdie putt). Longest drive went to Mohanlall Dinnanauth who has a closet full of such prizes. Sponsor Ramesh Sunish was unable to attend the presentation ceremony so Captain Patrick Prashad spoke on behalf of Trophy Stall which has been a reliable supplier of trophies over the years.
The Captain then thanked Trophy Stall for sponsoring the tournament and hoped his company continues it long relationship with the Lusignan Golf Club.
A number of tournaments are scheduled, with Bassoo Construction sponsoring on August 7 and Courts Guyana August 14 as players tune up for the Suriname Open.
The RBTT Suriname Open will take place on August 21-22 in the neighbouring republic and several local players have already indicated their interest in competing in the tournament which will attract players from Aruba, French Guiana, Netherlands Antilles, Guyana and hosts Suriname.
Around the Web