—says coach Rabindranauth Seeram
By Marlon Munroe
As the senior national cricket team departs Guyana today on its quest to reverse the string of mediocre performances on the regional scene Coach Rabindranauth Seeram feels that his team should approach the Caribbean Cup Twenty20 tournament one game at a time.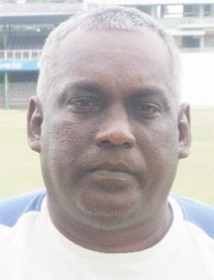 Seeram told Stabroek Sport yesterday that the team was well trained and the players fit.
But, he pointed out, it would serve Guyana in good stead if the players did not go to Barbados and underestimate any team.
Seeram said that Guyana has been good in the shorter version of the game in obvious reference to the now defunct Stanford Twenty20 tournament which saw Guyana winning the inaugural tournament in 2006.  More particularly, Seeram said he was wary of some of the teams that will be coming up against Guyana especially since some of them have players that have been recalled by territorial boards for the tournament that begins July 22 in Barbados. Guyana, which will be competing in Group B, will play the Windward Islands in its first game on Friday before tackling the Combined Colleges and Campuses (CCC) on Sunday. The national coach is adamant also that even the newcomers in the side allrounders Paul Wintz and Jonathan Foo understand their role.
He opined that the match simulation exercises and two practice matches have proved to the management team that the young cricketers have merited their selection for national duties.
Seeram believes that the young prospects have shown the temperament to be useful at the shorter versions of the game and there is the possibility that they will be successful during the July 22-31 tournament in Barbados and Trinidad & Tobago. On the other hand, Seeram said that Captain Ramnaresh Sarwan has been leading the side with distinction and he has shown that during the simulation matches and the practice matches at the Guyana National Stadium over the past weekend. Further, Seeram pointed out that with the presence of the more seasoned campaigners in the national side it will make Sarwan's job easier at the helm.
Commenting on the return of Lennox Cush, Seeram emphasised that the allrounder will bolster the team's chances in the tournament since he is a specialist 20/20 player and he adds to the psychological advantage of the team. Cush has also represented the United States of America during the recently-concluded ICC Twenty20 tournament in Dudai, United Arab Emirates.
The national team departs Guyana today for Barbados at 11:00 hours.
Around the Web