-after capturing a gold medal at this year's Cadet championships in Puerto Rico Chelsea Edghill now turns her attention to the Pan American Mini Cadet tourney in Santo Domingo in October
By Tamica Garnett
It's not that everything she touches turns to gold but in the table tennis arena in Guyana 12-year-old Chelsea Edghill is certainly the golden girl of the sport.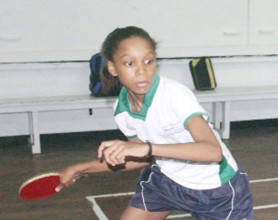 In the course of her still fledgling career, the 12-year old Bishops' High School first form student has endured some ups and downs.
The downs, though have been few and now Edghill is experiencing the ups.
It started in April this year when Edghill climbed the mountain of Caribbean cadet table tennis to strike gold and become the Under-13 girls singles champion.
It was a monumental achievement for the lanky player who was still some months shy of her 13th birthday and validated the efforts of her parents who went to great lengths to assist her on her journey to stardom.
Realising that previous coaches Muniram Persaud and Linden Johnson were limited to some extent, Godfrey and Deidre Edghill decided to enroll their daughter in the table tennis classes conducted by former three-time Caribbean men's singles champion Colin France. The move brought immediate results and Chelsea was on her way.
Later her talents were honed prior to the championships at the old home for table tennis which is quickly becoming the new Cliff Anderson Sports Hall- Malteenoes Sports Club.
There under Coaches Dwain Dick and Idi Lewis, Chelsea Edghil was introduced to other types of training.
Dick is a firm believer in the use of multi-ball training which Chelsea Edghill had experienced under France but Dick began video taping the drill in an effort to spot and then show Edghill her faults.
It worked! Edghill, in the final of the girls' Under-13 category, defeated Carla Brito, daughter of former Caribbean champion Roberto Brito 11-5, 11-3, 9-11, 11-7, 11-6.
Not satisfied Edghill turned her attention to the annual Independence anniversary tournament where she was determined to be the best female player on show.
And, in a feat unprecedented in the history of the sport locally Edghill swept to singles titles wins in the U13, U-15 and U-18 divisions.
But it was not always all wins and blue skies for the Bishops' High School student who started her love affair with the game at the tender age of nine at the annual Teach Them Young training Summer Camp.
Then a student at Mae's, Edghill was a regular competitor for the school and eventually participated in the inaugural tourney of the annual Caribbean Pre-Cadet Table Tennis Tournament in 2006 in Trinidad.
It was her first appearance on the regional scene Edghill was able to secure silver medals in the team and doubles events.
The silver medals further fuelled her desire to snatch goal which defeat in the 2007 tournament failed to quell.
Edghill's age was however proving to be a factor since in most cases she was always the youngest in the tournament playing against older and much more experienced players.
Mom Deirdre was an ever present fixture at these tournaments where she often doubles as GTTA representative and biggest supporter.
She told Stabroek Sport that being present at the tournaments opened up her eyes to the poor state of the sport locally.
However, instead of labelling the sport hopeless, Edghill chose to recognize her daughter's potential and sought better avenues to channel her daughter's talent.
Asked how she dealt with her challenges when she first started out a self-assured Edghill stated that she turned her disappointments into a learning experience.
"Everytime that I lost I took it as a stepping stone to do better and to try harder at winning because I know that one day I'm going to win," she said candidly.
Edghill is also an inspiration to her 10-year-old brother, Kyle and the two often support each other at competitions
In the 2008 junior tournament which was held here Edghill was forced to play in the U-15 category and reached the quarter-finals after defeating the Jamaican number two player but losing to Yvonne Foster the Jamaican number one.
And, last year at the Pre-Cadet Tournament in Barbados Edghill again reached the quarter finals in the singles event and earned a bronze medal in the girls doubles with Akeila Wiltshire, daughter of former national junior champion Garfield Wiltshire.
The racquet wielder attributes her improvement and wins to her three coaches – Lisa Lewis, Dwayne Dick and Idi Lewis as well as the Malteenoes Sports Club family.
She practices three times per week after school on Thursdays, Fridays and Saturdays at the club.
Asked about the effects on her studies, Edghill stated that that has never been a problem. She said she takes her school work with her if she is traveling anywhere.
Chelsea says she is enamoured with school and tennis.
"At school I get to talk to my friends and at tennis I have friends. So it helps me to socialise," she declares.
Next up for Chelsea is participation at the Pan American Mini Cadet tournament which will be held in Santo Domingo. The top two players from the tournament in Puerto Rico earned spots of the October 4-11 tournament and Edghill qualified by virtue of winning that tournament.
More gold beckons!
Chelsea's golden record
Tournament results 2010
GTTA/NSC Independence tournament
U-13 singles – gold; U-15 singles –gold; U-
18 singles-gold; junior mixed Doubles
–gold; Women's doubles –gold.
5Th Caribbean Table tennis
Championships Cadets Puerto Rico
U-13 singles –gold.
Oscar Shew Memorial tournament
–Guyana
U-13 singles – gold.
—————————————————
2009 Mashramani tournament
U-13 singles gold.
—————————————————
————
2008 GTTA/NSC National Championships
U-11 singles –gold; U-13 singles –gold.
GTTA /NSC Independence tournament
U-11 singles- gold; U-13 singles – gold; U-
15 singles – gold.
2007 Mashramani tournament
U-10 singles –gold.
Around the Web