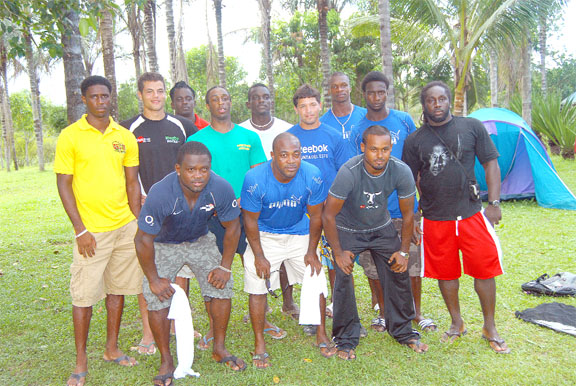 -Women's NACRA squad also named
At the end of their four-day encampment which began last Sunday, the 12-man National Rugby Sevens squad to represent Guyana on home soil in the Central American and Caribbean (CAC) Rugby Sevens Games this weekend was named yesterday at the Splashmins Resort.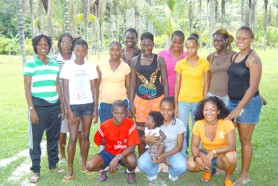 The names were read by Director of Sevens and Chairman of the local selection committee, Mike McCormack at Splashmins' Eco Camping Grounds.
The venue was donated by the Splashmins Resort for the squad to undergo their final preparations.
According to McCormack, the camp mainly focused on getting the players mentally prepared for the tournament, rather than the more physical aspects of the sport.
McCormack explained prior to disclosing the names that the camp was aimed at getting the players better acquainted so as to "raise the level of solidarity" among the group.
The players that will be striving for gold at the CAC Rugby Sevens Games on July 24 and 25 at the National Stadium, Providence are as follows; Forwards:- Theodore Henry, Dwayne Schroeder, Rupert Giles and Ronald Mayers.
Half-Backs:- Dominic Lespierre, Christopher Singh, Ryan Gonsalves, and Troy Bascom.
The Backs are Captain Claudius Butts, Elwin Chase and Kevin McKenzie, while the Hooker is Vice Captain Richard Staglon.
The Women's Sevens squad that will be defending their North American and Caribbean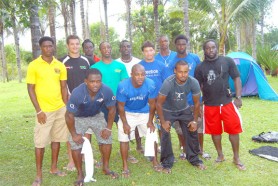 Rugby Association Championships for the second time in succession was also named yesterday and are as follows:- Shabola Grey (Captain), Colette Hope, Desaun Josiah, Maurice Skeete, Latoya Cordis, Grace Jarvis, Sheneeza Daniels, Nikita Davis, Andrea Lashley, Karen Skeete, Fiona Ward, Natasha Andrews, Tricia Monroe and Laurel Anderson.
The women will begin their title defence following the CAC games on Monday and Tuesday.
Around the Web