Squash queen Nicolette Fernandes won Guyana's first medal of the Central American and Caribbean (CAC) Games in Bogota, Colombia yesterday.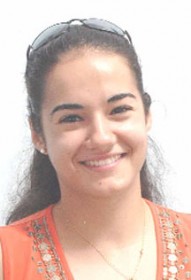 Fernandes gained the bronze medal after she lost her semi-final match against Mexico's Samantha Teran 5-11, 6-11, 5-11.
Up to press time yesterday there were no results for Fernandes and Ashley Khalil for the women's doubles final gold medal match. Fernandes and her partner won their semi-final match 2-1 against the Guatemalan duo of Ackerman and Eva
In hockey, which is being held in Salinas, Puerto Rico the Guyanese ladies team drew 0-0 with Bermuda. Bermuda is seeded higher than Guyana and the South American side battled even while much of the island was  under a storm watch.
The women's table tennis team of Trenace Lowe, Michelle John and Natalie Cummings lost 3-0 to the Mexicans. The men's team of Paul David, Idi Lewis and Christopher Franklin also suffered a 3-0 loss against Venezuela.
According to reports coming from Guyana's Chef de Mission Deion Nurse in Puerto Rico the players are looking forward to their individual events.
On Wednesday Claire Fraser, the only female cyclist, successfully completed her Time-Trials in very windy conditions to finish 11th out of a field of 13 with a personal best time over 20.7 km.
Meanwhile, Carifta gold medallist Jessica Stephenson's finished 13th out of 22
competitors in the women's 100m breaststroke. She also achieved a new personal best time of 1:15.63.
Stephenson has already made the qualifying time for the Commonwealth Games in India from October 2-11.
Today Guyanese Alonso Graves will be in action in the cycling scratch track race while Stephenson is set to compete in the 50m Breaststroke.
The female racquet wielders will be coming up against their counterparts from the Dominican Republic and the men will face Panama.
The boxers, who got off to a bad start with LIAT delivering four boxers' luggage late will weigh-in this morning. The first bout is scheduled for sometime later in the day.
Around the Web