The Guyana Karate College (GKC) received a sponsorship cheque of $500,000  from  Ansa Mc Al under the Smalta brand yesterday in aid of the college hosting the 11th International Shotokan Federation (ISKF) Pan American Karate Championships scheduled for Guyana from August 12-15.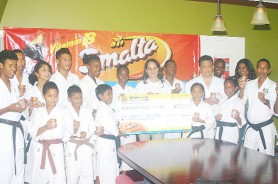 Marketing Assistant of Ansa Mc Al Anjeta Hinds at the company's headquarters at Beterverwagting, East Coast Demerara said the company was proud to be associated with the GKC especially after realising the important role that karate plays in the lives of its followers. She said that after the proposal for sponsorship was posed to the company it became an eye opener and therefore it was easy for the company to lend its support to the college.
She also wished the karatekas that will be representing Guyana at the games that will be held at the Cliff Anderson Sports Hall to do their best. Further, Hinds reminded the contingent from the GKC that the company will be looking to support it in the future.
Chief Instructor of the GKC Master Frank Woon-A-Tai, on behalf of the college, expressed gratitude to the company for its generosity in his brief statement. He was especially pleased that the company was helping to keep young karatekas from falling prey to the ills of society. He emphasised that karate teaches people discipline and therefore it was a worthy cause for the company to contribute to.
The tournament will see participation from 12-15 countries and over 300 karetekas competing in the individual and team Kata along with the Kumite.
Woon-A-Tai also reminded the audience yesterday that in a run-up to the tournament, Masters Teruyuki Okazaki and Yutaka Yaguchi will be hosting a training symposium, seminars, and examinations that will be sanctioned by the ISKF, at the Princess Hotel.
Around the Web