-but falls short of medal round
The Guyana national men's table tennis team just missed qualifying for a medal when they lost 0-3 to Guatemala in their quarter final clash last evening at the Inter-American University in the village of San German.
The team of Idi Lewis, Christopher Franklyn and Paul David had earlier qualified second in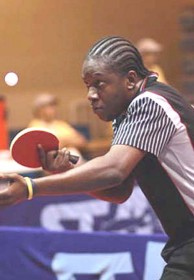 their group behind Venezuela after getting past Trinidad and Tobago in the key clash Thursday night.
In what the International Table Tennis Federation (ITTF) referred to as a "shift in power in the Caribbean" Guyana stormed to a 3-2 win over the Trinidadians whose line up included France- based professional player and three-time Caribbean men's singles champion Dexter St Louis.
St Louis, who plays most of his table tennis for CAM Bordeaux in the powerful French League, defeated both David and Lewis.
But Franklyn in his best international performance destroyed Khaleel Asgaralli and Curtis Humphreys to be the Guyana team's hero.
Lewis and David then ensured Franklyn's heroics would not be in vain by winning the vital doubles encounter against Asgarali and Humphreys.
Needing to defeat Panama to qualify for the next round Guyana duly disposed of the Panamanians 3-1 yesterday morning.
Lewis and David each defeated David Ariza while Franklyn disposed of Justo Altamiranda after Panama's Omer Avi Tal and Altamiranda had beaten David and Lewis in the men's double.
The women though were eliminated after losing to Mexico and the Dominican Republic.
Against Mexico Yadira Silva defeated Trenace Lowe 11-5, 11-7, 11-4; Laura Rosales beat Michelle John 9-11, 11-6, 11-7 and the pair of Sarah Rosas and Rosales beat John/ Natalie Cummings 4-11, 11-8, 11-9, 12-10.
The  Dominican Republic trio of Johenny Valdez, Wu Xue and Eva Brito, made light work of Lowe, John and Cummings winning by a 3-0 margin to secure first place in their group with Mexico, the no.3 seeds, in second place.
On the opening day the Guyana men's team went under to the powerful Venezuelans.
Henry Mujica beat David 11-6, 11-6, 11-7; Marco Navas defeated Lewis 11-7, 11-7, 11-4 and Luis Dias and Navas beat Lewis/Franklyn 11-4, 11-7, 11-6.
Around the Web