GEORGETOWN, Guyana,  CMC – Chetram Singh has admited that Guyana has a hard act to follow in the Champions League Twenty20 next month in South Africa.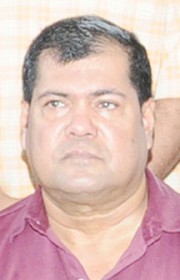 But the long-standing Guyana Cricket Board president believes Ramnaresh Sarwan's side will make the Caribbean proud when it takes to the field.
The Guyanese qualified for the lucrative competition, after they won the Caribbean Twenty20 Championship two Saturdays ago.
"We are looking to put up a gaood show, and what we are hoping for is to get as far as T&T got the last time around," he said.
Singh, a director of the West Indies Cricket Board, believes success for the national team will be the right tonic for the sport in the country, which is enduring a tumultuous time at the moment.
"We saw what happened in T&T the last time around," he said. "They went to the CLT20, and they played very good cricket.
"They reached the Final, and not only did they attract people to the game in their country, but also regionally."
He added: "After their great performance, it was like a dose of medicine for the game in T&T, and all of a sudden, their cricket picked up. We are still seeing the benefits of that performance in India."
Singh has dispelled doubts about the quality of the Guyana side, and their ability to be worthy representatives for the region.
"We have a good team, and we could do very well in South Africa," he said. "Our players are keen, and really want to bring the success back home.
"If this is done, then we would have a lot more people being attracted to the game of cricket, and it would help us in developing it."
He concluded: "Also our players have a great chance to get recognised on the World stage, and get contracts to benefit themselves. We are hoping for the best."
Comments

Ladies and gentlemen it's Showtime. All of the boxers on the six-fight 'Bad Blood' (Sangre Malo) card scheduled for tonight at the Cliff Anderson Sports Hall cleared their final hurdle yesterday by making weight in their respective weight classes.

Stumps on day two of Guyana's Jaguar's final round clash against the Trinidad and Tobago Red Force ended on a bittersweet note for young sensation, Sherfane Rutherford who fell agonizingly short of his maiden first-class century at the Guyana National Stadium, Providence yesterday.

LONDON, CMC – Under-fire West Indies Under-19s and their embattled captain, Emmanuel Stewart, have found backing from the historic Marylebone Cricket Club, in the controversial 'obstructing the field' dismissal of South African opener Jiveshan Pillay, during their ICC Youth World Cup match last Wednesday.

BRIDGETOWN, Barbados, Jan 19, CMC – Barbados Pride pace quartet of Chemar Holder, Keon Harding, Justin Greaves and Dominic Drakes brought to life a pedestrian day with hostile bowling in the final hour to put Jamaica Scorpions on the back-foot in the Regional 4-Day Championship on Friday here.

BASSETERRE, St Kitts, CMC – Devon Smith's bid at history proved anticlamatic when he suffered the indiginity of a one-ball 'duck' on the opening day of Windward Islands Volcanoes' final round match against Leeward Islands Hurricanes here Thursday.