By Tamica Garnett
The Guyana Olympic Association (GOA) yesterday said it will sponsor a 42-member contingent inclusive of athletes and officials to the upcoming XIX Commonwealth Games in Delhi, India from October 3-14.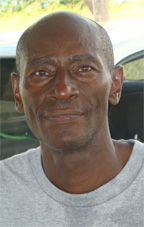 This was yesterday disclosed by GOA President K. Juman Yassin during a press conference held at the Olympic House, High Street.
While Yassin said that the GOA had whittled down the lists received from the respective associations to the final delegation of athletes and officials, he said there were still a few fine tuning arrangements being conducted by some associations.
The list excludes a number of athletes who can still attend the games once they are prepared to pay their own way and Yassin said yesterday that the GOA was willing to have those athletes accredited.
The most recent draft of the final delegation lists includes 34 participants and 11 officials from eight sport disciplines.
Garfield Wiltshire has been appointed chef-de-mission.
The lone swimmer is Jessica Stephenson while an official to accompany the 15-year-old is still to be determined.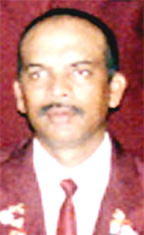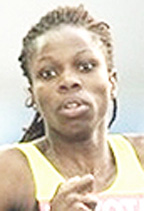 Originally five athletes were selected but only three, Aliann Pompey, Cleveland Forde and Adam Harris have been selected. A fourth athlete is being considered.
President of the Athletics Association of Guyana, Colin Boyce will manage the athletes.
Boxers Clevon Rock, Dexter Jordan and Devon Boatswain will represent Guyana in that discipline.
Yassin disclosed that the omission of CAC Games bronze medalist, Ray Sandiford, was not an oversight but was due to disciplinary reasons.
Cycling will feature Alonzo Greaves, Geron Williams, Marlon Williams, Enzo Mathews, Claire Fraser and Sean Green. Mathews, Fraser and Green are among those expected to pay their own way to the event. The contingent will be managed by William Howard.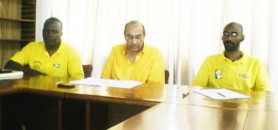 A fully fitted 16-man rugby team will attend inclusive of coach, Joe Whipple, physiotherapist, Martin Varga and manager Kit Nascimento.
Ransford Goodluck and Mahendra Persaud are the rifle shooters while Nicolette Fernandes and Ashley Khalil are the squash representatives.
Idi Lewis, Paul David, Christopher Franklin and Edinho Lewis will be the table tennis players at the games.
During the conference Yassin said that the GOA will foot part of the transportation costs of the athletes and officials to and from the Games Village.
He said that accommodation and meals will be taken care of by the Organizing Committee of the Games.
Each association will be required to pay US$255 per athlete and US$305 per official. According to Yassin, this cost is exactly half of the costs to accommodate the attendance of each individual at the games.
Yassin affirmed that assistance from the government of Guyana for the longest while has not been forthcoming and said that this situation has not been resting nicely with the GOA or any of the other associations in Guyana.
Around the Web