The national under-19 rugby team is departing Guyana today for Trinidad and Tobago, where they will engage in two 'challenge matches' against the Trinidad & Tobago Rugby Football Union's (TTRFU) under-19 team.
Outfitting the team for their trip to Trinidad and Tobago was Ashmins Trading at the company's location on High Street yesterday.
The presentation of travel uniforms to the team was made by the company's Advertising Manager, Shalliza Allie.
During the presentation ceremony, which was attended by President of the Guyana Rugby Football Union (GRFU), Kit Nascimento, along with the team's coaching and management staff, Allie stated that the company was pleased to partner with the GRFU once again.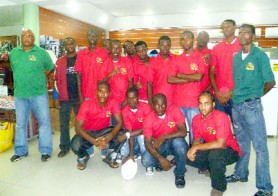 "We plan to do bigger and better things in the future, because we believe that sport does well for the development of youths" said Allie.
The under-19 team has been in training for the past two months in preparation for the two matches, under newly appointed Coach, Alwin Etwah and Assistant Coach, Elwin Chase. They will be under the management of Peter Campayne and Assistant Manager, Joseph Rahaman.
The team will play its first game this evening at 6:00 pm against a select TTRFU under-19 team at the Queen's Park Savannah or at the Larry Gomes Stadium and its second game will be against a TTRFU Development Squad on Sunday at 8:00 pm at the Larry Gomes Stadium.
The members of the national under-19 team are the Forwards: Vallon Adams (Captain), O'Neal Charles (Wing Forward/Flanker), Dwayne Massay (Wing Forward/Flanker), Allain Crawford (Hooker), Rondel Mc Arthur (Prop), Gordon Andrews (Prop), Chandra Shekar Jainarine (Prop), Jason Ridley (Hooker), Mark Bollers (Second Row/Wing Forward), Mark Burnett (Second Row) and Michelle Canzius (Second Row).
The Backs are Rickford Cummings (Vice Captain– Fullback), Dwayne Jackson (Scrum Half), Clinton Mars (Scrum Half), Mario Whyte (Fly-Half), Kareem Azeez (Fly-half/Centre), Mark Massiah (Centre), Toby David (Centre), Dennis Alexander (Winger), Jumoke David (Winger).
Around the Web