Local Beverage giants Banks DIH Ltd. renewed sponsorship with ace motor racing driver Andrew King ahead on Sunday's Seaboard Marine Caribbean Motor Racing championships at the South Dakota Circuit at Timehri.
King and Group 2 driver Danny Persaud will be racing under the Banks Beer banner, the company's International Gold Medal winning beer.
Banks Beer Brand Manager Brian Choo Hen presented the sponsorship cheques to King and Persaud at a simple ceremony at King's residence in Prashad Nagar Thursday.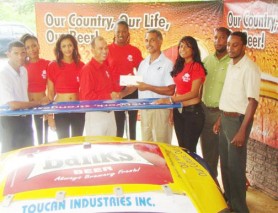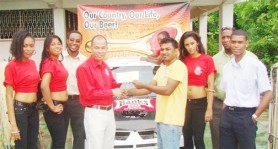 Choo Hen said that King's car, a Mazda RX7 and Persaud's Toyota 4A-5A Turbo charged car will be racing under Team Banks Beer.
He said his company was pleased to have the two motor racers racing under the Banks Beer brand.
King thanked the company for its continued support.
King, an advocate of safe driving urged race fans to "Leave the racing at the Races" and called on them to drink responsibility.
King will compete in Group 4 of the Caribbean championship that will also feature racers from Jamaica and Barbados, while Persaud will test his mettle in Group 2.
The International meet organized by the Guyana Motor Racing and Sports Club will attract motor racers from the USA, Canada, Jamaica, Barbados, Trinidad and Tobago and Suriname.
Around the Web