– The making of a Mr. Universe. Hugh Ross details how he won the Mr. Universe title
The slogan on the Mr. Universe website announces that it is where legends are made and rightly so for a legend was made last Saturday night in London, England when Guyana's Hugh Ross was crowned Mr. Universe.
It was the single biggest sporting feat of the decade by a Guyanese athlete and places Ross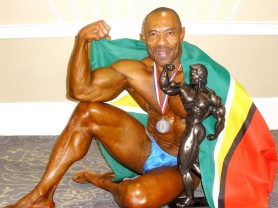 among the pantheon of bodybuilding greats.
Last Saturday night's feat took place at the Southport Theatre Complex before a sold out crowd at the National Amateur Bodybuilding Association's 60th Mr. Universe Competition.
The win places him on the same roster with the likes of Arnold Schwarzenegger, Steve Reeves, Frank Zane, Reg Park and Bill Pearl, all famous personalities who were previous winners.
He is also the first Mr. Universe from Guyana as well as from the Caribbean and the first athlete from the USA who has won since 1994.
Prior to Ross's achievement the standard for a Guyanese bodybuilder was held by Laura Crevalle.
Crevalle, who was born in Essequibo, was one of the most successful female bodybuilders of the 1990's and participated in the IFBB Ms. Olympia competition.
Though she has never won the Ms. Olympia, Crevalle did win the heavyweight division of the IFBB World Amateur Championships in Puerto Rico in 1989 which earned her a pro card.
Crevalle was also the first woman to win the MS International title on three occasions.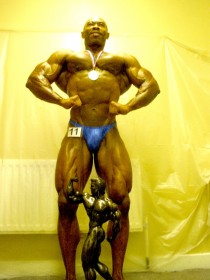 Ross' road to the Mr Universe title has been long and hard.
In order to qualify the first time to compete at the Mr. Universe competition he had to win the Overall title at the NABBA USA Nationals.
"As a natural athlete that was like accomplishing a mission impossible because Mr. Universe is not a tested event so the athletes who compete there always look phenomenal," he explained.
In his three prior appearances at this event, Ross, who is also a Musclemania professional, placed third in 2006, fifth in 2007 and third again in 2009.
A very emotional Ross told Stabroek Sport that although he was elated; winning the title was   a very humbling experience for him.
Pre Tournament
planning
As always, Ross was very meticulous when planning his assault on this year's Mr. Universe and he worked everything out in great detail.
"I planned it like a military operation and executed every aspect with detailed precision," he said.
"My preparations commenced at the beginning of May and the first three months were dedicated to gaining as much additional muscle mass as possible.
"During that phase my weight training was done with maximum poundage in the 6-8 repetition zone and I increased my daily caloric intake from 3500 to 4500, an additional 1000 calories daily with a ratio of 40 per cent protein, 50 per cent  carbohydrates  and 10 per cent fat.
"My training schedule was four days weekly and each body part was trained once per week. I was 217 pounds with 8% body fat at the end of this phase. My target was 215 pounds.
Detailed Training Mode
"From the first week in August I then switched into the detailing mode. This entailed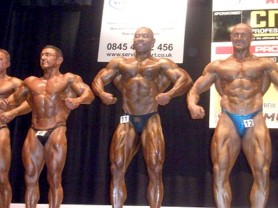 lowering my training poundage by a miniscule percentage while increasing my repetitions to the 10-15 zone regardless of how painful it was. Some days I was in such agony that making it home from the gym was an ordeal.
"During this phase which was from August to the end of September, I increased my training schedule to six days weekly so as to train each body part twice weekly.
Throw in cardiovascular
exercises
"Cardiovascular exercises was also now incorporated into my regime twice daily for short intense periods, at  0400 hours, prior to leaving for work and then again immediately after lifting in the evenings.
"My caloric intake remained the same but I adjusted the ratio to 55% protein, 35% carbohydrates & 10% fat.
"I experimented by lowering my carbohydrate intake even further during September so as to further accelerate the decrease  the percentage of my body fat.
"This resulted in me becoming very weak and listless to the point where walking for a block took a concentrated effort.
Adjusting to the
changes
"I was forced to adjust the low carbohydrate intake for the days when I trained smaller body parts and had lesser activities on my schedule.
"My goal was to compete weighing over 200 pounds with a body fat percentage below five.
"At the end of September, I had already attained that goal and, at the beginning of October, everything went into Maximum Overdrive.
"I intensified my training even further by increasing the intensity.
"This entailed even higher repetitions with no rest period between the sets.
"This took tremendous focus and consistent encouragement from my two training partners,  Adelina Carvalhal Ray, who has trained with me for the past 15 years  and Elder Gerald Shaw.
Mandatory Posing
"I also started practicing my mandatory poses after each training session with Sunday evenings dedicated exclusively to posing under the tutelage of two-time Miss America, Denise Richardson a very loyal friend of mine who drilled me repeatedly to the point of exhaustion.
"My caloric intake was lowered gradually to approximately 2500 with an estimated ratio of 60 per cent protein, 20 per cent carbohydrates and fats increased to 20 per cent.
"I also started tanning my skin and repeatedly going to a studio to supervise the mixing of the music for my routine which was extracted from,' Lenny Kravitz's I want to fly away'.
"My daughter Damali took a weekend off from college and travelled home to choreograph my routine which she has always done. Prior to her departure she had me repeatedly practice it until 0200 hours.
Sodium free meals
"The fun part is my mum who plays a major role in the preparation of my meals. She always thinks I am deranged when I get to that point where I commence eating sodium free foods minus any seasonings or condiments that I wash in distilled water prior to cooking.
"On October 24 to the morning of October 27, my diet was devoid of carbohydrates but training was crucial on those days so as to totally deplete my body and get it in a state of readiness for my carbohydrate reloading process which I commenced at 1400 hours on October 27.
"My final training session was on the morning of October 27.
"All of my meals for the remainder of that week were also precooked during that morning. I departed New York on the evening of the said day for the United Kingdom and ate every two hours throughout my trip which lasted until noon of Oct 28.
"I was picked up at the airport in Manchester, UK by my friend Chetwyn Eastman, a fellow Ex Officer of the Guyana Defence Force and was hosted by himself, his wife Pauline  and their two adorable kids who kept me busy with questions until I checked into the athletes venue, The Prince Of Wales Hotel, on October 29 for event registration and athletes brief.
"They also returned the following evening and attended the show to support me.
Last lap
"Throughout that Friday until midnight I continued to eat every two hours but drastically decreased my water intake from about a gallon on the previous day to about two pints for the entire day and absolutely none after midnight.
"Prejudging commenced at 0900 hours on October 30. I was 202 pounds with a three per cent body fat. My muscles were full, striated and razor sharp. I felt satisfied that I had done everything as planned and was fully ready.
"My master's category commenced with 33 athletes. I was in the first call out for comparisons and felt really good about that.
Prejudging
"After prejudging, unlike most of my fellow athletes who immediately went off their diets, I returned to my room and strictly continued to fill out some more with additional carbohydrates.
'At that level, athletes are fully aware of their likely placement after prejudging based on the call outs and comparisons hence attrition goes into effect by the time we return the evening for the finals. In this case, almost 50 per cent of the athletes from my category did not return.
Top Six
"After I was announced as one of the top six finalists, there was another brief round of comparisons, followed by the execution of our respective routines.
"Mine brought the audience to its feet. After that we were lined up, the placements were awarded and I was blessed with a historical moment, the winner.  Mr. Universe!
The top six were as follows:
1. Hugh Ross  ………   USA/Guyana
2. Aivars Visockis …   Latvia
3. Martin Holroyd ….. UK
4. Derek Jones ……….  UK/Wales
5. Phil Kuklinski ……  New Zealand
6. John Lee …………… UK
The Mr. Universe title is now the icing on the cake for Ross who had previously won the US Masters National Overall, Powerlifting title and the Open Overall title at the Fitness Atlantic competition which enabled him to compete as a professional.
Ross, who trains at the Brooklyn Sports Club and the Fifth Avenue Gym, said he is thankful to the Almighty God, first and foremost, for granting him the privilege of winning the prestigious title.
He also would like to express deep gratitude to his family, friends, supporters and fans for their continued support.
Around the Web