Group 4 driver Kevin Jeffrey saved his best for the final stage of the Seaboard Marine Caribbean Motor Racing Championship Series at the South Dakota Circuit yesterday but still ended two points shy of defending champion David Summerbell Jr.
Jeffrey, who won all three of his races yesterday, finished with 74 points while Summerbell ended with 76 points to take the drivers' championship. Jeffrey cut a 12-point deficit that Summerbell had going into yesterday's final stage following the first two stages in Jamaica and Barbados.
Jeffrey, who yesterday  stated that his focus was not on winning the individual championship, was pleased that Guyana won the country championships ahead of Jamaica and Barbados.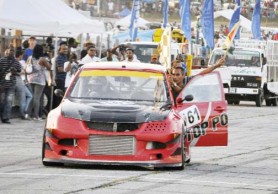 Summerbell yesterday lauded the efforts of Jeffrey and his competitive spirit. He also stated that it was an "awesome" year for himself and team. Commenting on his performance yesterday Summerbell revealed that he struggled somewhat especially since there were problems with the car overheating.
According to Summerbell the aim was to maintain consistently high standards on the track.
Jeffrey said that he was glad Guyana won the championships and that he had a better year than he had anticipated. He emphasised that he had no regrets about the drivers' championships but yesterday was testament to the hard work that he has been putting in.
He indicated that better things will be coming from him next year and he is looking to make further improvements to his Mitsubishi Evolution.
In the superbike category, Kevin Graham was once again unstoppable with Stephen Vieira his close rival. Graham won all of his events yesterday while Vieira, who had stated that he was experiencing problems with his machine, did not complete one of his three races; Vieira had two second place finishes.
More details on the official points standing will be available in tomorrow's publication.
Around the Web