The mother of Golden Jaguars striker Devon Millington is questioning the exclusion of her son from the national football team to play against Guatemala in an international friendly match today in Atlanta, Georgia, USA.
Denise Somerset, speaking with Stabroek Sport yesterday, also wondered whether her son is being victimised by the local governing body Guyana Football Federation (GFF).
According to Somerset, her son has been producing results for Guyana and it was baffling when he did not make the tour to England earlier this year to play against the Cray Wanderers Football Club.
He is also missing from the Golden Jaguars team which will oppose Guatemala today in the United States of America.
The woman said that Millington, who turns 26 next month, has been representing Guyana since he was an under-20 player.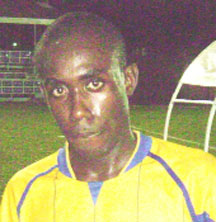 She argued that her son was a better player than some of the others who were selected by the GFF.
Somerset said she believes that Millington is talented enough to make the national side and should have been in the final 17.
"Is he only good to play in the Caribbean for the Golden Jaguars? A lot of people have been calling me to find out why there is no Millington in the side. Why they doing this to him?" Somerset enquired.
She also reminded that that her son has scored in two of the games of the current Digicel Cup tournament and pointed out also that her son  helped Guyana to create history by winning the Independence Cup in Suriname last year October.  Millington scored in all three of those matches.
She stated that she felt disappointed with his exclusion as a parent, especially since she has been one of the driving forces behind her son's football career. She revealed that her son has been indicating to her that he plans on retiring from national duties and focus on playing only for Beacon United.
She pointed out, however, that she has been constantly encouraging him to continue in the sport. She concluded by stating that the decision to exclude her son was an "unjust one".
Meanwhile, when Stabroek Sport contacted General Secretary of the GFF Noel Adonis he said that Millington's exclusion has "nothing to do with his competence or lack thereof."
He reiterated that the exclusion had nothing to do with the player but rather the programmes and the current selection process that encompasses the programmes the GFF have at the moment for players.
He indicated last evening that he could not elaborate more on the issue but promised that he will be available to explain in full sometime today.
And a source within the GFF told Stabroek Sport yesterday that there was an interview session with all of the players who were selected for the tour. He stated that he could not point to a reason for the exclusion of Millington, whom he feels  is better than some of the strikers that were selected to play against Guatemala.
He suggested that it was possible that the selection panel might have taken into consideration the incident where three of Guyana's boxers who competed at the Commonwealth Games in India last month absconded to the USA on their way back home.
Around the Web