The Ministry of Education/National Sports Commission/ Guyana Cricket Board Secondary School Under-15, limited overs cricket competition continued recently in the Berbice/Mahaicony Districts.The  latest round was highlighted by the batting performance of Rosignol Secondary School's Derick Lalsa Jr. stroking 181 against Fort Wellington Secondary School.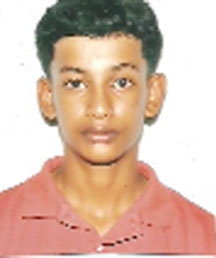 His top score ensured Rosignol register a huge 152-run win over their opponents.
Rosignol Secondary took first strike and they lost their first wicket when the score was two. However, Lalsa, after some quick wickets fell, joined forces with Pooran Singh (25) and they added 83 for the eighth wicket in 13 overs.
When Singh was dismissed Rosignol were 139-9 in the 23rd over with Lalsa on 101. Another defiant 96-run partnership started though with Lalsa and number 11 batsman Jerrel Walters, who only contributed one after the 12-over vigil. Lalsa was the last batsman to depart the crease after 19 fours and 10 sixes as his team scored 235 all out in 34.2 overs.
Bowling for Fort Wellington, Linden Sears took 3-26 while Kurt Griffith had 3-42.
When Fort Wellington responded, the opening pair of Trevor Jhingoree (19) and Charran Dharprasad put on 33 for the first wicket in 5.2 overs after which Dellon Nelson picked up two quick wickets to have Fort Wellington on 33-2.
Jhingoree and Sears added 27 for the third wicket but after that there was a rapid decline that was started by medium pacer Parmanand Ramdhan who took 4-11 from 4.4 overs. Leg-spinner Lalsa had 3-10 from 10 overs as Fort Wellington were skittled out for 83 in 21.4 overs. Dellon Nelson finished with 2 for 13.
Around the Web