-committee being formed to address the situation
A committee is to be set up aimed at helping Guyana's indigenous people, the Amerindians to develop their athletic ability.
This was disclosed by former youth representative for Region Nine, Mark Rodrigues.
Rodrigues and a number of other persons including President of the National Amerindian Development Foundation, Ashton Simon, met yesterday at the Cliff Anderson Sports Hall to ventilate the issue.
According to Rodrigues, over the years evident talent, available in the interior regions of Guyana, was being wasted because of the lack of opportunities for the athletes to develop their skills.
"Over the past two decades the hinterland regions have been producing some outstanding athletes who dominate several sport disciplines at the national level.
"But in the interior most of them are unable to further develop their skills because they are denied the opportunities that their coastland counterparts receive," Rodrigues said.
Rodrigues said he feels that the time has come for a committee to be put together to represent the need for equal support to be given to those athletes coming out of the interior region.
"It is my belief that much more can be done for youths of the hinterland. I feel the time has come to put together a committee to enable more representation for our athletes so that they can be given an equal opportunity to realize their  talents," Rodrigues charged.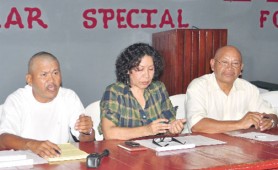 Rodrigues said he believe that this should begin with more programmes promoting youth and sport being conducted to give those located there the opportunity "to provide a strong case to transform the mentality of the governing bodies of sports and corporate sponsors of the country."
Simon articulated that what suppresses the youths was the all round lack of support shown to the athletes out there.
He noted that in the past his non-governmental organisation had made attempts to solicit the assistance of the government through the Ministry of Culture, Youth and Sports but said nothing had ever been forthcoming.
Another meeting for the forming of the committee will be staged next Saturday at the Sophia Training Centre from 2pm.
Around the Web