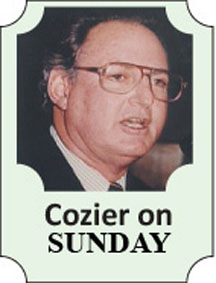 The West Indies, overwhelming underdogs before the bell, returned to their corner after the first round in Galle pleased to be ahead of points.
They took early command and forced their favoured opponents, on home territory, to defend for survival. But for a few missed chances, they would have shaken the Sri Lankans even more but they simply didn't have the punching power to deliver an early knockdown.
For all but a brief, early period, they were the ones on the receiving end when the second round ended yesterday at the Premadasa Stadium. But for the weather at the tail end of the annual monsoon season in these parts reducing the match's allocated 450 overs to 212.5, they would certainly have been flat on their backs and seeking resuscitation prior to this week's third and final round in Kandy.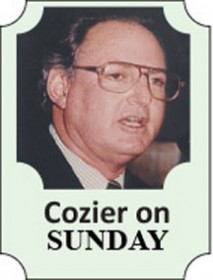 Several factors brought about the transformation confirmed the ICC Test rankings of Sri Lanka at No.3, the West Indies at No.7. The most telling was selection.
The West Indies made just the one change. In hindsight, and given the conditions, it was wrong, if understandable.
Sri Lanka, shaken by their Galle experience, had three. They made all the difference.
Between the Tests, the West Indies were taken aback by the umpires' report on Shane Shillingford's action since two of the officials involved, Steve Davis and
Asad Rauf presided over him without a quibble in the home series against South Africa in June.
Captain Darren Sammy and Coach Ottis Gibson naturally publicly stated their support for their new off-spinner. All things being equal, he deserved to keep his place and he did.
Since Sulieman Benn, serving a one match suspension that kept him out of the first Test, was returning, it meant that Andre Russell had to make way.
Quite apart from unbalancing the bowling, doubts hung over Shillingford as low and as visible as the clouds that repeatedly enveloped the ground. He is at the
start of his Test career and his reaction was only natural. It was not surprising that he did not present nearly the problems he had in Galle.
It was also clear that Benn was short of work. This was his first meaningful bowl since the last South Africa Test in Barbados in June.
It left the impressive Kemar Roach, a relative newcomer in only his ninth Test, without the support of anyone above medium-pace and the new ball in the hands of Captain Sammy, a third, often fourth seamer, in his previous appearances.
Sammy bowled as well as he can on a pitch of encouraging bounce and movement on the first day. But he managed only one wicket – Mahela Jayawardene with a wicked incutter – in a marathon 17 overs.
Russell's extra zip would surely have helped ask more serious questions. In the circumstances, Sangakkara and Thilan Samaraweera converted 34 for three into 204
for four before Dwayne Bravo, underutilised on the first day, accounted for Samaraweera.
Sangakkara and the lower order then saw to it that the total mounted to an eventual 387. It was just what the rejigged Sri Lanka bowling needed.
The two listless, wicket less fast bowlers from Galle, Thilan Thushara and Dammika Prasana, had been replaced by Nuwan Kulusekhera, an experienced campaigner, and
Suranga Lakmal, a lively, eager 23-year-old newcomer.
The flighty off-breaker Suruj Randiv reverted to the reserves to make way for the little left-arm spinner Rangana Herath, aged 32 and with the background of 21 Tests.
It gave the attack better balance. Gayle could not impose himself, as he did in Galle, and Adrian Barath fell early so Sangakkara could summons his trick-artist Ajantha Mendis at 73 for two in the 24th over rather than 88 without loss.
Mendis immediately prised out Shivnarine Chanderpaul, the usual middle-order rock, and bowled throughout with the confidence he only found in Galle after he removed Gayle and proceeded to clean up the mesmerised tailend.
In addition, Sangakkara remembered that Tillakaratne Dilshan, used for just three of the West Indies' 163 overs in the first Test, was not only a right-handed Gayle at the top of the order but a useful off-spinner as well.
His dismissal of the contrasting left-handers Brendan Nash and Darren Bravo that ended a restorative partnership of 83 in the gloom at the end of the third day set up a tense finale.
The torrential downpours and the persistent, ensuing drizzle that completely erased the fourth day were showers of blessing for the West Indies.
Even then, and with yesterday's delayed start, there were several anxious moments before stumps were eventually pulled and the two combatants went back to
their corners. The West Indies were the more bloodied.
It was not all gloom for the visitors. Nothing, not even Sangakkara's 24th Test hundred, lit up the Premadasa Stadium as clearly as the 80 of the young Bravo, Darren.
As everyone in Trinidad has always known – and now the world does through television – he is a special talent with an uncanny resemblance in batting style, movements and even facially to one Brian Lara to whom he is related.
As a host of gifted sportsmen have experienced, such comparisons are usually the kiss of death (think, for instance, Bernard Julien and Garry Sobers). On all
early evidence, it is unlikely to be so in Darren Bravo's case.
It is impossible not to see the similarity when he uncorks a flashing cover-drive or casually dances into spinners to launch them for straight sixes, as he did for times Herath and Mendis.
Aged 21, he has approached his first two innings in Test cricket in the critical No.3 position – entering at seven for one in the third over in his second – with composure and maturity that more than just hint at a future of pure pleasure for all who appreciate class out of the ordinary.
With Barath, 20, Roach and Russell, 22, and others in the 'A' team back in the Caribbean like Kraigg Brathwaite, 17, and Keiron Powell, 21, there is optimism about future prospects.
This has been counterbalanced over the past two Tests by evidence of the continuing crisis of leadership that affects so much in all Caribbean life at present.
It means, in this case, that Sammy and Dwayne Bravo are two all-rounders who must be accommodated at the same time in the absence of a captain who can
command his place.
The reasons for Sammy's elevation to the position are well known.
Gayle and Bravo, previous captain and vice-captain, effectively disqualified themselves by choosing to turn down the board's retainer contracts. Shivnarine Chanderpaul and Ramnaresh Sarwan both previously did the job but have made it known they are no longer interested.
So Sammy was the choice. Like every other alternative mentioned, he never held a settled place in the team, but he was seen to have the necessary strength of character.
He has had a shocking initiation – out first ball in Galle and third ball here and just a couple of wickets to show from 59 overs. There have even been a couple of uncharacteristic missed catches.
The pressure of captaincy might be telling as it has done with almost every recent incumbent but Sammy, as does Bravo, needs to start producing.
Around the Web