Walter Grant-Stewart rode his way to victory in the 11th annual Diamond Mineral Water 50-Mile cycle road race held on the West Demerara on Sunday.
The race commenced from the Wales Police Station at 0900 hrs and proceeded to Bushy Park before returning to the Demerara Harbour Bridge for the finish.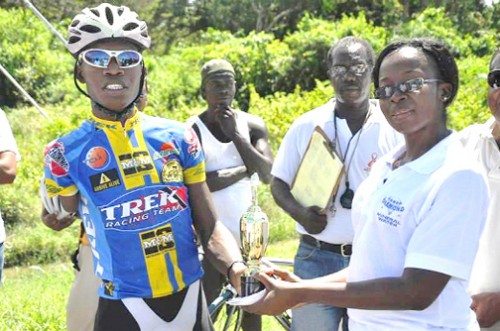 Grant-Stewart won the race, which is the final race on its organizer Hassan Mohamed's yearly event calendar, in a time of one hour 58 minutes 22 seconds (1:58:22).
Junior cyclist Paul DeNobrega rode in second, while Linden's Mark Lewis placed third.
Meanwhile, Alonzo Greaves finished fourth ahead of Junior Niles and Warren 'Forty' Mc Kay, who placed fifth and sixth respectively. DeNobrega's place behind Grant Stewart in the senior category assured him the first position in the junior category. The other top junior finishers were Raynauth Chatram in second and Montel Anthony placing third.
The upright category, which turned back at Uitvlugt Community Centre and finished at the Harbour Bridge, was won by Nigel Jacobs followed by Ravendra Rodrigues and Shawn Frank in second and third respectively.
Leading the veteran category, who took the same route as the upright cyclist, was Kennard Lovell who finished ahead of Shameer Baksh and Linden Blackman in that order.
Representatives from Demerara Distillers Limited, the sole distributor for Diamond Mineral Water, were at the presentation ceremony following the race meet and distributed prizes to the event's top performing cyclist.
Around the Web