The Pepsi Sonics basketball club's senior team won all their games in the recently concluded 'Refresh your world' basketball competition to emerge  winners of the tournament last Sunday at the National Gymnasium.
The Pepsi Sonics, who are also the host of the tournament, defeated both of their competitors in their two games played on the final day of the two-day round robin competition.
Their first win on the road to the overall victory in the senior category came against Qualfon, defeating them 101-74 with Jason Squires leading the scoring for the Sonics with a game high 21 points.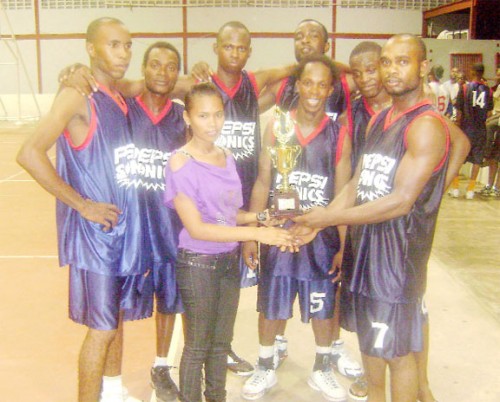 Squires was assisted by Trevor Smith and Rawle White, who contributed 18 and 15 points respectively.
Piloting the Qualfon's line-up was Quincy Lindo and Marlon Chesney with 15 points each.
The Sonics secured their second win to clinch the tournament's senior category with their 73-70 defeat of Kwakwani in overtime.
After regulation time expired with both teams on 65 points, the battle spilled into overtime and Pepsi Sonics eventually got the upper hand.
Ryan Melville and Jason Squires were the main contributors for the Sonics after netting 18 and 14 points respectively, while Rawle Gordon led Kwakwani with 16 and Sheldon Thomas added 12.
Meanwhile, in the junior category of the competition, the Pepsi Sonics were second best to Qualfon after their junior side lost 32-40.
Around the Web