President of the Guyana Table Tennis Association (GTTA), Henry Greene emphatically declared Sunday at the Cliff Anderson Sports Hall that "table tennis is back" in Guyana.
Greene's comments were made at the presentation and closing ceremonies for the Vita Malt 2010 National Open table tennis championships, which was contested over the last two weekends at the same venue.
According to the GTTA president about $1.5 million in cash and prizes were presented to the successful participants. He thanked the sponsors of the event for their generous cooperation with the GTTA to ensure the successful staging of the tournament.
The national table tennis championships were not held since 2008 and according to Greene his association was "determined to run the championships before the end of the year and have done so successfully.
"We know that this will continue," Greene added, while pinpointing that one of his goals as president is to ensure the national tournament is held every year.
He also congratulated all the participants, especially the overseas-based players who he said had made a special effort to compete in the competition.
"We are happy to see that we had a lot of overseas participation… I'm happy that they came and hope they continue to be present at upcoming competitions," said Greene.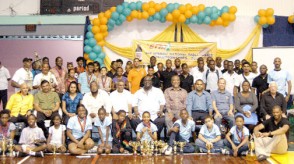 He noted that the participation of the overseas players was especially important since the GTTA will be rating both the local and overseas players based on their performances at various local tournaments.
"Out of this tournament will come ratings of both local and overseas and those ratings will be used to select players for various international tournaments," Greene said.
"We are moving table tennis in Guyana  with the support of the sports ministry and taking table tennis to a lot of places in Guyana," said Greene, prior to referring to the recent distribution of table tennis boards to schools across Guyana.
"People are coming out to play and our drive is to ensure we assist.  We have confidence in persons who have been supporting us and we know that very shortly we will start our work," said Greene pointing to the realization of the table tennis centre, which is high on the agenda of the GTTA.
"I promise you we will do it. Keep playing and keep supporting us," Greene concluded. Minister of Culture Youth and Sport, Dr. Frank Anthony also briefed those in attendance to witness the participants being rewarded for their performance at the tournament.
"I'm indeed pleased at what I have seen and heard.
"When Mr. Greene was thinking about running [for the GTTA presidency] I encouraged him to do so because table tennis has a lot of potential in this country, what was lacking is the ability and vision to take the sport forward."
"Since having a new president we are seeing new found life in table tennis and it is really going somewhere… they have really moved table tennis forward. He [Greene] has a vision for the development of the game," said dr. Anthony.
He also noted that the GTTA has moved to a point where they were having difficulty to host basic competitions, but they are looking to have their own building and this was very laudable.
Other high level officials at the closing ceremony were Prime Minister and acting President, Samuel Hinds and Minister of Labour, Manzoor Nadir, along with representatives of various sponsors of the tournament.
Around the Web