Wayne Dover, Coach of the Guyana All Stars team which defeated Atletico Roraima Sunday night as the annual Kashif and Shanghai football extravaganza got underway is of the opinion that the side performed "creditably."
Speaking to Stabroek Sport after the match which was won 1-0 by the Guyana All Stars, Dover said be formed his opinion based on the fact that there were a few players who had not competed internationally in over two years.
Dover stated that he had observed that his team had fallen into the pattern of flooding the midfield early in the encounter but said they managed to make the adjustments and got things working again.
Also worrisome for Dover was the fact that the local forwards were not able to convert the chances to score especially when they were near to the goal.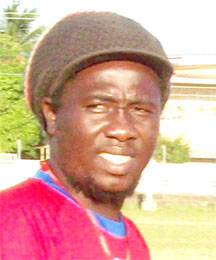 Dover said he believes that the forwards inability to score when the opportunities were there was responsible for various teams' elimination from numerous tournaments and being on the losing end of many international battles.
The Guyana All Stars scored in the 35th minute through Carey Harris and the goal was allowed as the referee failed to notice that the assistant referee had raised his flag signaling an offside.
"It was a bit unfortunate that the goal was scored that way but at the end of the day in the game of football you have to live with decisions like that because the referee's decision is final," was Dover's take of the incident.
Earlier, Acting President of the Republic of Guyana, Sam Hinds along with Minister of Culture Youth and sport Dr. Frank Anthony had lauded the efforts of the Kashif and Shanghai Organization.
Hinds remarked that he was impressed with the growth of the tournament which, he declared, was now the most prestigious football tournament in the country.
He called on Sports Minister Dr. Anthony to help promote football across the country especially in secondary schools so that it could be a feeding ground for tournaments as such.
"The Kashif and Shanghai Tournament has unarguably become the best tournament that Guyana has to offer. It is the most viewed tournament and has the ability to become greater," Hinds remarked.
"We have seen this tournament grow in stature from year to year to the point where we got a chance to see the great King Pele at the launching of last year's tournament," he added.
Around the Web