The Guyana Table Tennis Association (GTTA) will be collaborating with the Ministry of Culture, Youth and Sport (MCYS) to throw up an official table tennis facility at the Racquet Centre being built at Camp Street and Woolford Avenue.
Speaking with Stabroek Sport, Minister Dr. Frank Anthony confirmed that the ministry will be allocating a section of land on the eastern side of the compound to facilitate the erection of the building. Anthony elaborated that while the ministry will not involved in financing the cost of the facility, it will be a long term commitment as they will be expected to foot the cost of keeping the facility operational.
"We are allocating a piece of land there [at the Racquet Centre]. It's going to be a partnership  – the table tennis association they will raise the money, ministry will provide the security of the place, the entire compound, provide for all the utility services, and of course the personnel to clean and maintain the building so that is a long term commitment. But I think the table tennis association will be working to rise the funding for the building," Anthony said. The Racquet Centre is a brain child of the MCYS that was officially declared last year December. The table tennis building will be the third facility that will be added to the compound that is already expected to house squash courts, a practice court and a tennis court.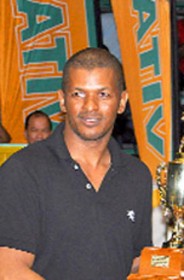 Secretary of the GTTA Godfrey Munroe said that the plan for the building has been moving forward, and construction may begin as soon as the first quarter of next year. Munroe related that a blueprint for the building has already been drafted.
According to Munroe the building is estimated to cost approximately $50 million and to fund the venture the association will be looking into areas of revenue generation such as fundraising and soliciting assistance from the corporate community.
This revelation comes among a series of speedy developments that have been emerging on the stage of table tennis in Guyana since a new executive took over in August this year.
This new executive is headed by Commissioner of Police Henry Greene who had promised to put table tennis in Guyana back on its feet.
Developments include an increase in table tennis tournaments, including the reinstatement of the National Table Tennis Championships which were completed last weekend at the Cliff Anderson Sports Hall.
Around the Web