MIAMI, (Reuters) – The red-hot Miami Heat used an  18-2 second-half run to blow past the New Orleans Hornets  96-84 on Monday for their ninth successive victory.
Dwyane Wade scored 32 points, including the final six of   Miami's second-half explosion that gave the Heat a commanding   94-77 lead midway through the fourth quarter.
Motivated by a hard foul against him in the first quarter,   Wade erupted for 20 points in the second quarter on his way to   recording his third successive 30-point effort.
"I was very angry," Wade told reporters after making 8 of 13 field goal attempts and 14 of 17 free throws on the night.
"Sometimes you've got to make your point."
Chris Bosh scored 23 points and pulled down 11 rebounds while LeBron James finished with 20 points as the "Big Three" continued to find their form during a dominant stretch for Miami (18-8).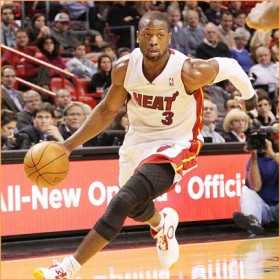 The Heat have won every game by double-figures during  their streak, which comes on the heels of them losing four of five and needing a players' only meeting to address their  early struggles.
Miami lost to New Orleans in their last matchup on Nov. 5, but the teams have gone in opposite directions since then with   the Hornets (14-10) losing nine of their last 12 following an   11-1 start to the season.
David West put up 26 points and 12 rebounds for New   Orleans, who kept the game close until the Heat raced away   with the contest beginning late in the third quarter when they   held a slight 76-75 edge.
"I think the whole time we were looking for a chance to  really turn up our momentum to really get the crowd into it,  get ourselves into it and get the energy," Bosh said.
In a back and forth affair early, the Hornets led by six  in the second before taking a one-point lead into halftime.
Point guard Chris Paul had a quiet game for the Hornets,  finishing with just 11 points and five assists.
Around the Web