The first knockout round of the 21st Kashif and Shanghai football tournament commences tonight with what is expected to be a thrilling double header at the Georgetown Football Club Ground from 6pm.
Match one will see the young, belligerent Riddim Squad team going head-to-head with Bartica's Liquid Gold. At 8pm, the defending champions, BK International Western Tigers, will spring into action against the Buxton United team.
The Western Tigers team boasts a strong line up which includes guest players Stellon David, Colin Nelson and Dellon Fraser and according to club President Gordon Gilhuys, the team cannot be beaten easily.
"We cannot underestimate any team in this tournament because we are ready to play because we have been training a lot," Gilhuys told Stabroek Sport adding that his team was in tip top shape and could not easily be beaten.
"It will not be an easy game because we are going up against a super league team that means they have been playing football and they are ready to play but if they are caught napping on the day then we will defeat them easily," Gilhuys said.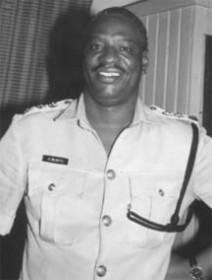 He added that they will be able to give a good account because all round they have a very good team.
Coach of the Buxton United squad, Mark Wade, stated that the confidence was there within the team even though the squad was a very young and inexperienced one.
"We will we be playing football to match any team but we will treat this game as a normal one and taking it one game at a time even though it is a well organized tournament and these teams will be ready to play… we will be playing football, people will be looking to see," Wade said.
Lloyd Millington who assists the Riddim Squad team said: "our preparation have been going good and in terms of game one, I think our team is ready to overcome the first hurdle even though we haven't had enough practice.
"Our weakness lies in our finishing and ball possession but we have done a lot of work to correct that but where our strength lies is in our fitness and playing a unit," he added.
Riddim Squad's opponent, Liquid Gold, according to technical director of the squad Prakash Jaisera, is at a 70 percent.
Jaisera said that the squad was a well-knitted bunch and their strength rests in their ability to function as a complete unit.
He added that they have been hampered by the inclement weather in their preparation but declared that they are going to be playing very attractive soccer since it will be the highest level of football to do battle in.
Around the Web